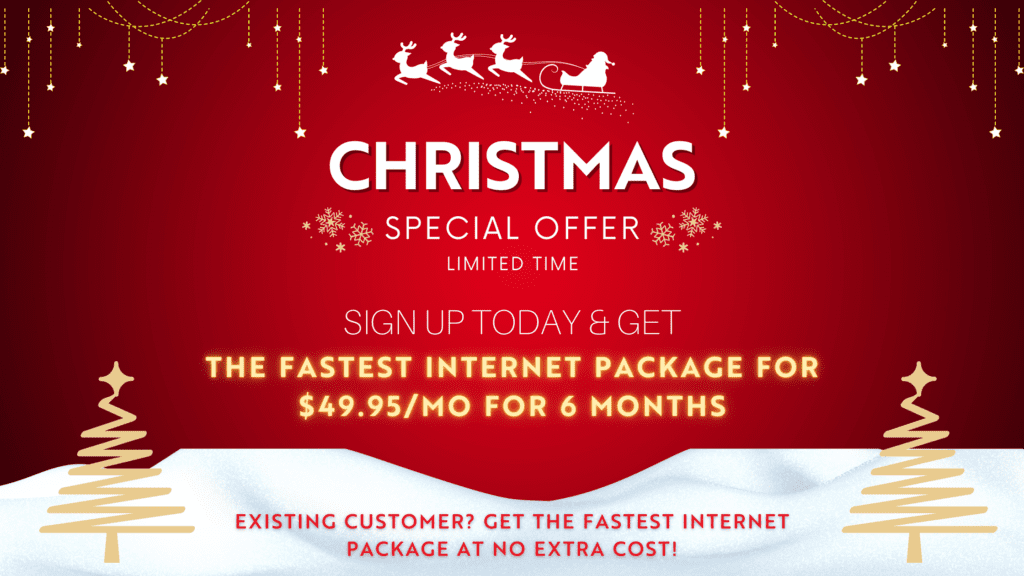 Add some sparkle to your Christmas with these amazing discounts!
Get ready for some serious savings on Broadlinc High-Speed Internet. From December 1st to January 1st, new customers can get our fastest package for $49.95/mo for the first 6 months. And existing customers can upgrade to the fastest package at no extra cost.
Don't miss out on this incredible opportunity. Call us now and get started on making your holidays even brighter!
Bundle different Broadlinc services for greater savings.

LEARN MORE ABOUT BROADLINC INTERNET
Our internet service gives you exactly what you need: reliably fast speeds with the most coverage in your home, so everyone can be online and connected across multiple devices at once.
High-Speed Internet Access in Rural Kentucky
At Broadlinc, we believe in a faster, more reliable network, even if you live in the country. We use a combination of fiber optic, cable, and wireless internet to deliver the last mile of the internet to Kentucky's rural towns. Our redundant systems help ensure more uptime, while our personalized customer service and IT support help you solve internet problems that have plagued you with other providers. Enter your address and zip code to check availability.
Until now, Kentuckians have had a limited number of internet providers to choose from. We now offer another option. With our focus on uptime, internet speed, and customer service, we are quickly becoming the best option for customers who are fed up with the current, limited options.
Do We Have Broadband Connectivity in Rural Kentucky?
According to the FCC, the definition of broadband internet is a minimum of 25 Mbps download and 3 Mbps upload speeds. Our basic internet plan with max download speeds up to 25 Mbps easily meets these standards of broadband connectivity.
If you need fast rural internet, Broadlinc offers an alternative to dial-up, DSL, and satellite. We offer affordable pricing that fits every budget and allows streaming, social media, and work-from-home access. For more savings try one of our phone, TV, and internet bundles.
Fixed Wireless Internet For Rural Areas
Many communities in Kentucky do not have high-speed internet availability. For the customer, there is a confusing set of information to sort through from ping to download speeds, and the effects they have on your internet surfing experience.
Satellite internet providers, wireless internet providers, Cellular internet hotspots… the list of internet options is long and confusing. Broadlinc stands out from the crowd by offering a reliable, rural internet option without data limits. We are rapidly adding towers to our internet network to allow Kentuckians in remote areas the freedom to work from home, complete virtual learning, and have access to telehealth services.
Does rural Kentucky have fiber internet?
Most of our wired infrastructure is a coax/fiber hybrid. We are in the process of building some fiber, but we currently offer coax/fiber internet in many of the small rural communities throughout Kentucky. Our wireless towers let us deliver fast internet to leverage the existing internet infrastructure and expand our services to individual farms and homesteads across Kentucky. We are a refreshing new internet provider for Kentucky residents.
Terms & Conditions
Terms and Conditions apply. Offers valid 12/1/2022 through 1/1/2023. Service and offer are not available everywhere. Certain restrictions apply. Rate subject to change. Prices and speeds may vary by location. Pricing does not include equipment taxes or fees that may apply. Offer available only to new customers or former customers with accounts in good standing. Offer cannot be combined with other promotions. Internet speeds are not guaranteed due to conditions outside of network control including customer's location, devices, equipment, and access through a wired or wireless connection.