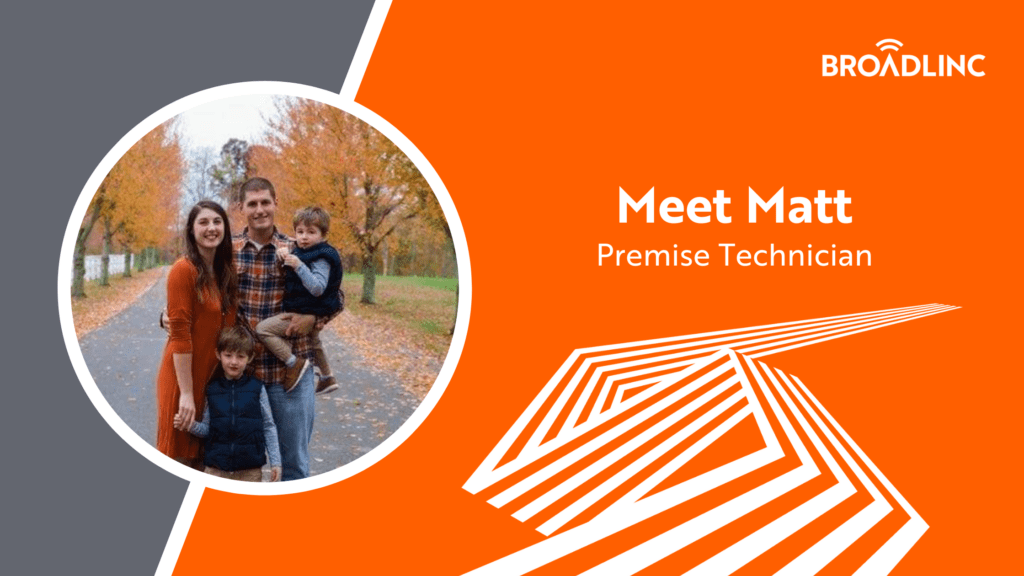 Employee Spotlight: Matt Smith
Matt Smith is a Premise Technician at Broadlinc working out of the Owenton office. He is responsible for managing the wireless technicians equipment prior to their installs, and taking calls from them if they're having any issues.
Q & A with Matt
How long have you been with Broadlinc?
I have been with the company for 2 years. It will be 3 years this coming November.
What brought you to the company?
I've learned about the atmosphere and job description from a former tech, so I applied for the position. I was wanting to do something I would truly enjoy rather than just earning a paycheck.
What do you like most about being a Premise Technician?
I enjoy working outside and meeting new people.
How would you describe the culture at Broadlinc?
I would describe the culture at Broadlinc as connected, motivated, and fun. The employees feel valued and share the same goal. Leadership and the sales team energize and motivate us every day to get the job done in a timely manner.
What do you like most about working at Broadlinc?
I love the fact that it's not like any other job that I've ever worked before. I never dread coming in to work like I have at past jobs. Also, there is no day that is ever the same. You will never get used to your routine, which keeps you on your feet. Most days, time actually goes too fast, which is a good problem to have while working.
What do you enjoy doing in your spare time?
In my spare time, I enjoy weight-lifting, playing every sport there is besides soccer, spending time with my family, and doing some work on rocket league.
How would your family or friends describe you in three words?
My family and friends would describe me as motivated, loyal, and particular.
Tell us something most people would be surprised to learn about you.
Most people would be surprised to learn that I am allergic to fruit. The people I tell think I'm joking, but my throat swells after eating any type of fruit. It feels almost equivalent to strep throat. It's hard to be healthy when you can't eat your fruits.
If you can have an unlimited supply of one thing, what would it be and why?
If I can have unlimited supply of one thing, it would have to be chapstick. At no given moment will anybody see me without my chapstick on me. I literally can't function with dry lips.
What is the best piece of advice you've ever been given?
The best piece of advice that I was given was "Whatever you do, give 100%". I take pride in all my work, and I can't leave any part of the job unfinished, messy, etc. OCD is a real thing and I have a severe case of it.

Written By Brittany Bowlin, Director of Marketing