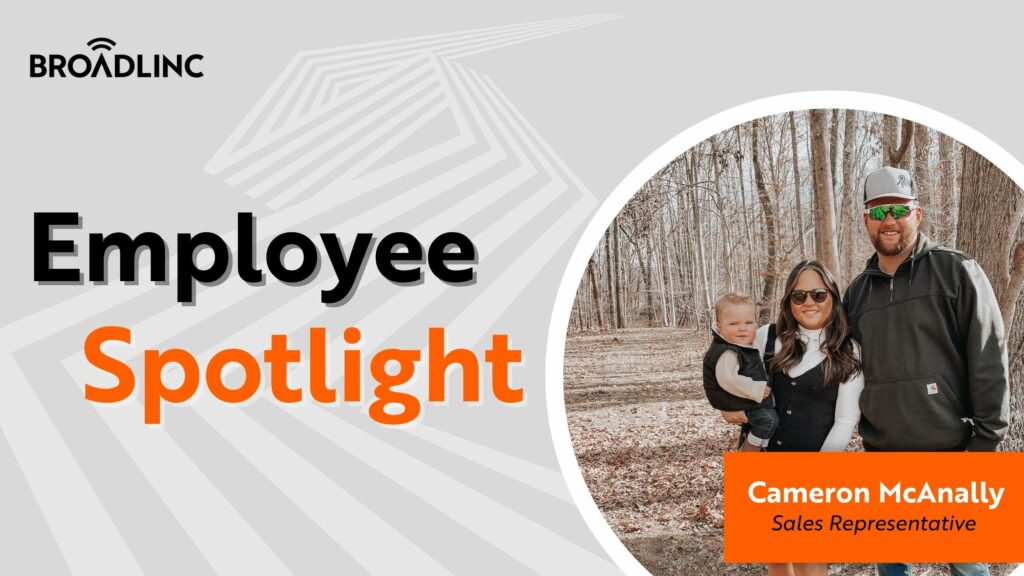 Employee Spotlight: Cameron McAnally
Meet our employee spotlight for December, Cameron McAnally. He is a Sales Representative working out of the Owenton office. A typical day for Cameron would entail starting his day at the office to plan his day. Then he would head out into the field, knocking on doors and working on follow-ups from previous days. In between those tasks, he's reaching out to customers and taking calls. If you've ever been met at your door by a Broadlinc representative, chances are it was Cameron, eager to explain how Broadlinc can enhance your internet experience!
Q & A with Cameron
Tell us a little about yourself.
I graduated from Owen County High School and lived in Owen County my entire life. I played baseball and basketball all through my years. I was fortunate enough to earn a scholarship to play college baseball at Midway University, where I graduated with a bachelor's in Sports Management with a minor in Business administration. I then moved back to Owen County and married my high school sweetheart Destiny (Young) McAnally. We now have one son, his name is River, and he is currently nine months old.
How long have you been with Broadlinc?
I have been with the company for a little over a year now.
What brought you to the company?
I learned Broadlinc was a local company, so I applied for the Sales Representative position. It was the perfect opportunity to work in my hometown and stay closer to home.
What do you like most about being a Sales Representative?
I enjoy talking to people and getting to know a little bit about them and their life. I also love helping customers save money.
How would you describe the culture at Broadlinc?
The culture is one of a kind. It is friendly and welcoming. Everyone treats everyone like family and is always there if you need anything.
What do you like most about working at Broadlinc?
I love trying to get people internet in places that you can't. I love working with a small company and communicating easily with everyone.
What do you enjoy doing in your spare time?
I love fishing, hunting, traveling, attending Owen County sporting events, and hanging out with my family and dogs.
How would your family or friends describe you in three words?
Energetic, loud, and outspoken.
Tell us something most people would be surprised to learn about you.
My favorite movie is The Notebook, and I love Taylor Swift.
If you can have an unlimited supply of one thing, what would it be and why?
I want an unlimited land supply, so I can create my hunting ranch and make it the way I want it to be.
What is the best piece of advice you've ever been given?
Opportunities don't just happen; you create them.

Written By Brittany Derderian, Director of Marketing
Brittany Derderian is the Director of Marketing at Broadlinc internet services. Her responsibilities include leading the company's marketing efforts, overseeing and growing the marketing department, consistently identifying revenue opportunities within our established client base and managing consistent growth by securing new accounts, collaborating with the leadership team to uncover insights and strategies to develop and implement marketing and branding strategies for new and existing products, and spearheading the strategic and tactical execution of marketing campaigns, including design of test/control segmentation, implementation of tests, tracking, results reporting, analysis, and recommendations. You can find her on the weekends enjoying the outdoors of Colorado with her husband, Logan Derderian.