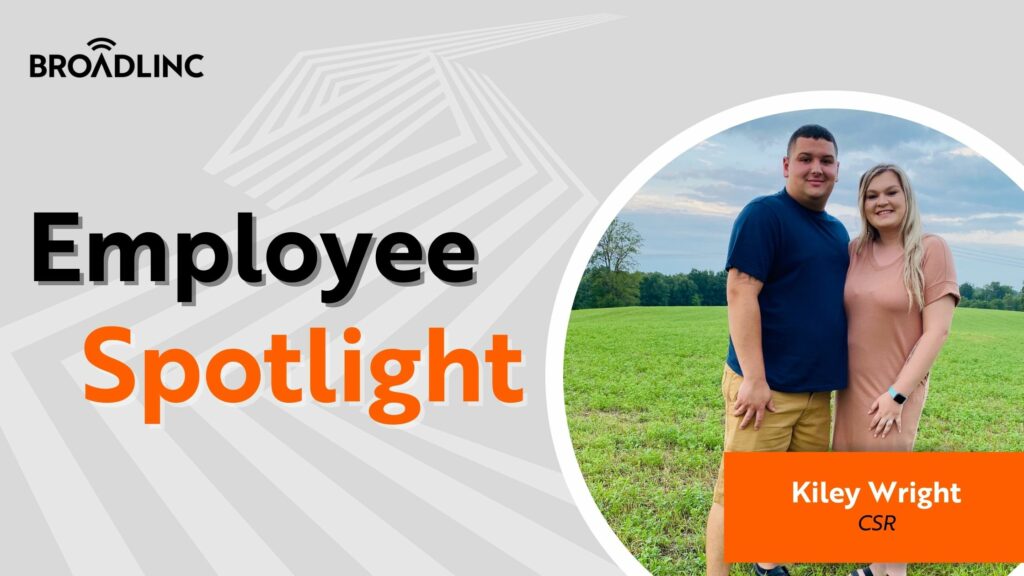 Meet our employee spotlight for January, Kiley Wright. As a Customer Service Representative in our Owenton office, Kiley is responsible for communicating with customers in various ways. She answers customer phone calls and emails professionally and assists them when they come by our office. If you have had any recent customer service interactions at our Owenton location, it is likely Kiley was there to help you!
Q & A with Kiley
Tell us a little about yourself.
I graduated Owen County High School and lived in Owen County my entire life. I don't have any kids, but I have four fur babies. 
How long have you been with Broadlinc?
I have been with the company for one year and 6 months.
What brought you to the company?
It was an excellent opportunity that was close to home!
What do you like most about being a Customer Service Representative?
I enjoy being able to build relationships with customers and help them with anything they may need.
What are you most proud of in your career so far?
I'm proud of learning how to operate multiple systems and establish customer relationships.
What advice would you give to someone that wants to pursue a career in customer service? 
My advice is you don't need to know everything from the start. Instead, focus on the skills you have, and build those you don't.
How would you describe the culture at Broadlinc?
Broadlinc is very people-oriented. We all work together to provide the best experience for our customers. We are all like family here.
What do you like most about the work we do at Broadlinc? 
I like that we can serve so many rural areas.
What do you enjoy doing in your spare time?
I like to go shopping, hang out with my friends and family, and spend time taking care of my animals.
If you could have any superpower, what would it be and why?
If I could have any superpower, it would be a healing power, so I could help heal sick people.
What's one thing on your bucket list? 
One thing on my bucket list is to visit Yellowstone National Park.
What piece of advice would you give to your younger self? 
I would tell my younger self to smile more and worry less.

Written By Brittany Derderian, Director of Marketing
Brittany Derderian is the Director of Marketing at Broadlinc internet services. Her responsibilities include leading the company's marketing efforts, overseeing and growing the marketing department, consistently identifying revenue opportunities within our established client base and managing consistent growth by securing new accounts, collaborating with the leadership team to uncover insights and strategies to develop and implement marketing and branding strategies for new and existing products, and spearheading the strategic and tactical execution of marketing campaigns, including design of test/control segmentation, implementation of tests, tracking, results reporting, analysis, and recommendations. You can find her on the weekends enjoying the outdoors of Colorado with her husband, Logan Derderian.