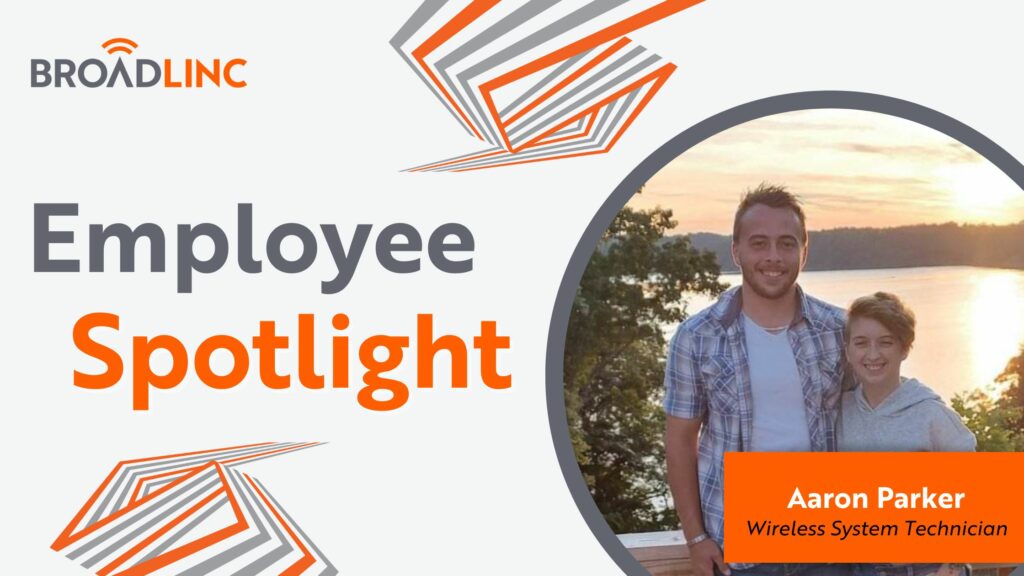 Meet our employee spotlight for June, Aaron Parker! As a Wireless System Technician based in Monticello, he diligently oversees inventory and executes installations and service calls while ensuring that the systems run smoothly. If you've ever had one of our expert crew members install our service at your home, Aaron most likely led the charge!
Q & A with Aaron
Tell us a little about yourself.
I'm Aaron Parker, and I'm 25 years old. I was born in Kentucky and raised in Ohio. I moved back to Kentucky with my wife, Emily, a couple of years ago, and we always liked the view of the rolling hills better than the corn fields up there.
How long have you been with Broadlinc?
I've been with Broadlinc for over a year.
What brought you to the company?
I have always enjoyed the tech field and saw this as an opportunity to get a start in it.
What do you like most about being a Wireless System Technician?
I enjoy the challenges that can come with the job. It forces you to treat each job a little differently; it's always different.
What are you most proud of in your career so far?
I'm proud to be on the ground floor of future expansion in Monticello. It'll be exciting to see Broadlinc grow here.
What advice would you give to someone that wants to pursue a career in your field? 
My advice would be to ask questions. The tech field is constantly changing. If you don't stay on top of it and get help when you need it, it's easy to get overwhelmed.
How would you describe the culture at Broadlinc?
Broadlinc is unlike any company I've worked for. When they say treat each other like family, they mean it. I'm glad to be a part of the team.
What do you like most about the work we do at Broadlinc? 
It changes people's lives in different ways. For some, it saves them money to switch from cable. For others, it just opens opportunities they never had.
What do you enjoy doing in your spare time?
My wife and I are gamers, and we like visiting new places, so we try to have a mix of both.
If you could have any superpower, what would it be and why?
I'd choose the power to fly; it would really reduce installation times.
What's one thing on your bucket list? 
My bucket list item is to own a Virtual Reality arcade. It's always been my goal to have a place where people can relax and have fun. Working around people and tech like that is where I can excel.
What piece of advice would you give to your younger self? 
My advice would be not to worry so much. Everything worked out. I ended up with the perfect person, a great job, and a world of opportunity.

Written By Brittany Bowlin, Director of Marketing
Brittany Bowlin is the Director of Marketing at Broadlinc internet services. Her responsibilities include leading the company's marketing efforts, overseeing and growing the marketing department, consistently identifying revenue opportunities within our established client base and managing consistent growth by securing new accounts, collaborating with the leadership team to uncover insights and strategies to develop and implement marketing and branding strategies for new and existing products, and spearheading the strategic and tactical execution of marketing campaigns, including design of test/control segmentation, implementation of tests, tracking, results reporting, analysis, and recommendations. You can find her on the weekends enjoying the outdoors of Colorado with her fiancé, Logan Derderian.