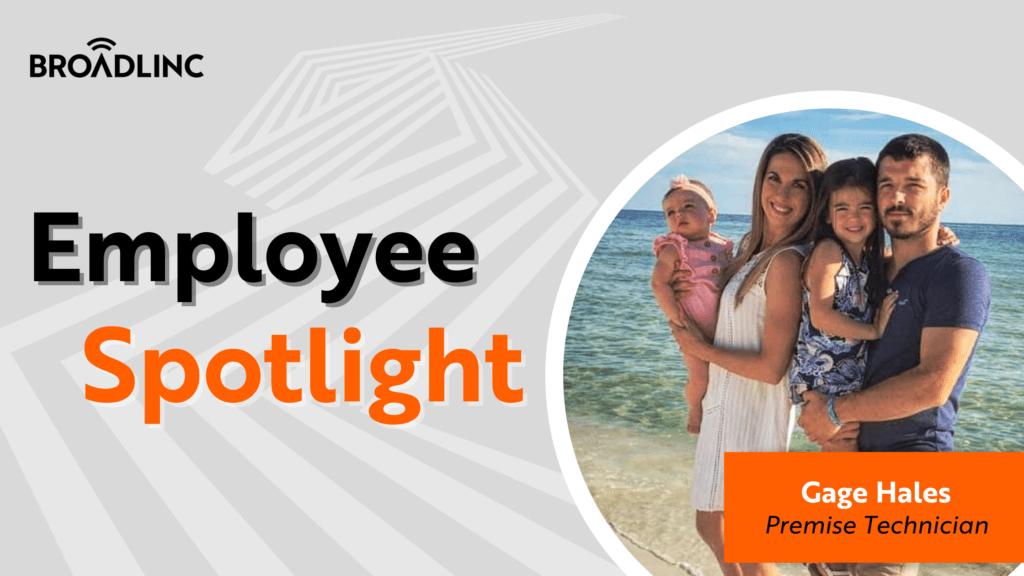 Meet our employee spotlight for May, Gage Hales! As a skilled Premise Technician based out of our Bremen office, Gage takes charge of vital responsibilities such as efficiently setting up, preserving, and fixing broadband, WiFi, phone, and TV services. He is also an adept troubleshooter, conscientiously addressing any broadband network issues and providing valuable support to his team during outages and upgrades. If you recently subscribed to our services in Bremen, it's likely that Gage swiftly set up your connection!
Q & A with Gage
Tell us a little about yourself.
My name is Gage, and I'm from Russellville, KY. I currently reside in Bremen, KY! I'm 28 years old and married to a beautiful Woman with two lovely daughters, River & Wrenley!
How long have you been with Broadlinc?
I've been with Broadlinc for almost two years now.
What brought you to the company?
I met a man named Keith, and he told me how great of a job it is, and the rest was history.
What do you like most about being a Premise Technician?
What I like most about my job is visiting with the customers, getting to know them, and meeting new people.
What are you most proud of in your career so far?
What I'm most proud of in my career is how it has opened me up to be more of a people person and not standoffish.
What advice would you give to someone that wants to pursue a career in your field? 
My advice would be to pay attention to detail and just be yourself with every customer.
How would you describe the culture at Broadlinc?
The culture at Broadlinc is better than anywhere I've ever been employed. Every employee treats one another respectfully, and everyone gets along well.
What do you like most about working for Broadlinc? 
Every day is different; no day is the same as the next!
What do you enjoy doing in your spare time?
In my spare time, I enjoy being in the woods hunting or on the water fishing with my family!
If you could have any superpower, what would it be and why?
If I could have any superpower, it would be the ability to fly!
What's one thing on your bucket list? 
One thing on my bucket list is becoming a certified skydiver.
What piece of advice would you give to your younger self? 
Never take any moment for granted, and always live in the moment!

Written By Brittany Derderian, Director of Marketing
Brittany Derderian is the Director of Marketing at Broadlinc internet services. Her responsibilities include leading the company's marketing efforts, overseeing and growing the marketing department, consistently identifying revenue opportunities within our established client base and managing consistent growth by securing new accounts, collaborating with the leadership team to uncover insights and strategies to develop and implement marketing and branding strategies for new and existing products, and spearheading the strategic and tactical execution of marketing campaigns, including design of test/control segmentation, implementation of tests, tracking, results reporting, analysis, and recommendations. You can find her on the weekends enjoying the outdoors of Colorado with her husband, Logan Derderian.