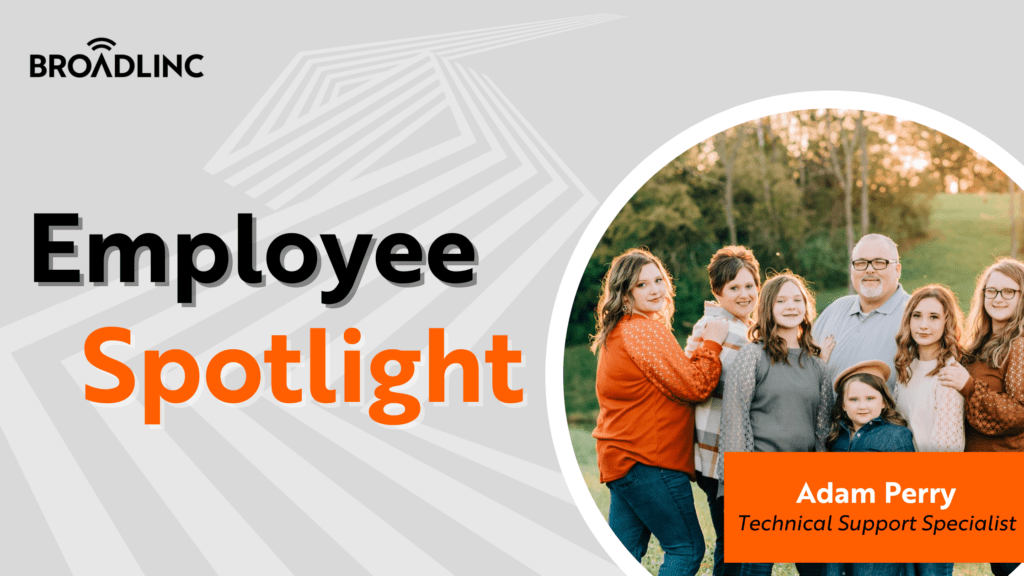 Employee Spotlight: Adam Perry
Meet our employee spotlight for October, Adam Perry. He is a Technical Support Specialist working out of the Owenton office. He and his teammates support over 5000 customers. His responsibilities include; taking direct calls from customers for technical support, responding to online requests for customer support, and communicating with field technicians and personnel during outages. So if you've ever called in for technical help, you've most likely chatted with Adam at some point!
Q & A with Adam
Tell us a little about yourself.
I was born and raised in Owen County but currently reside in Sparta, KY. My wife Bridget and I have been married for 22 years and have five daughters together. God blessed us with Abigail Marie (19), Isabella McKenna (17), Alexis Rylee (15), Madison Claire (13), and Brianna Elise (7).
How long have you been with Broadlinc?
I have been with Broadlinc for 2 years.
What brought you to the company?
In January 2020, the company I worked for closed its doors, and I was unemployed for nine months. It was hard to find a job, especially with the COVID pandemic. However, I saw an opening for a Customer Support Representative at Broadlinc and applied and got the job.
What do you like most about being a Technical Support Specialist?
I have worked in some form of technical support for almost 25 years. I like that you start with a problem and then get a chance to solve it. Then, when the customer is happy, that's the best result!
How would you describe the culture at Broadlinc?
Broadlinc has a family-oriented atmosphere! The President, VP of Operations, Tech Support Manager, and all the staff are very supportive.
What do you like most about working at Broadlinc?
I like how a small, locally owned company has a chance to expand into something that rivals large corporate internet service providers.
What do you enjoy doing in your spare time?
I'm laughing because there really isn't any spare time. I work on-call or spend time with my wife and girls, usually at their soccer games. So we are constantly on the run.
How would your family or friends describe you in three words?
Dedicated, selfless, and family-oriented.
Tell us something most people would be surprised to learn about you.
In 1989, I drowned at Elk Lake and was dead for eight minutes! In 1991, I had brain surgery for viral encephalitis. Lastly, in 2021, I had emergency surgery to treat an infection from flesh-eating bacteria. So I like to go big or go home. Some might say I'm like a cat with nine lives, and I have definitely used up a few.
If you can have an unlimited supply of one thing, what would it be and why?
An unlimited supply of energy to keep up with my wife and girls.
What is the best piece of advice you've ever been given?
Be kind, always!

Written By Brittany Derderian, Director of Marketing
Brittany Derderian is the Director of Marketing at Broadlinc internet services. Her responsibilities include leading the company's marketing efforts, overseeing and growing the marketing department, consistently identifying revenue opportunities within our established client base and managing consistent growth by securing new accounts, collaborating with the leadership team to uncover insights and strategies to develop and implement marketing and branding strategies for new and existing products, and spearheading the strategic and tactical execution of marketing campaigns, including design of test/control segmentation, implementation of tests, tracking, results reporting, analysis, and recommendations. You can find her on the weekends enjoying the outdoors of Colorado with her husband, Logan Derderian.