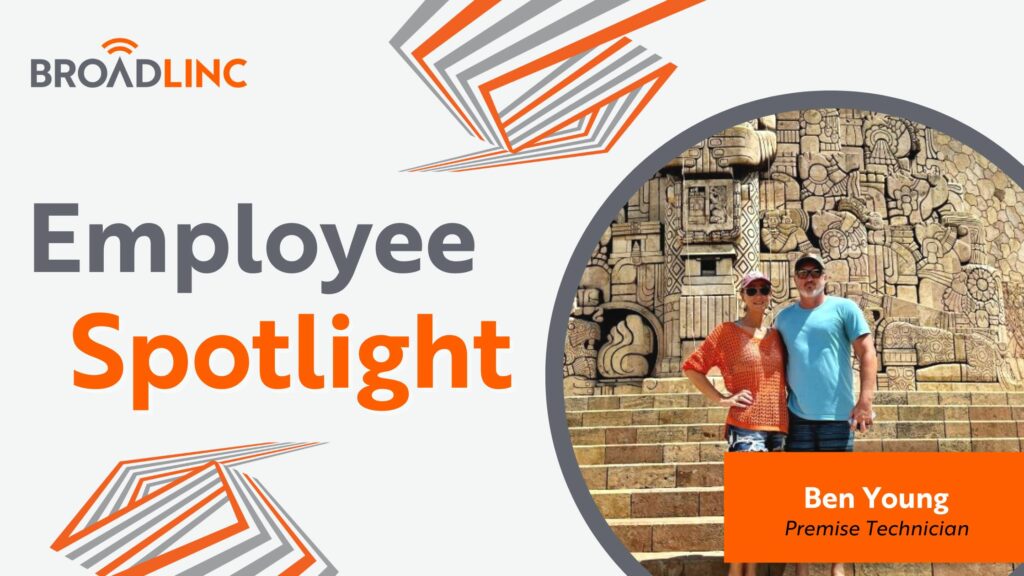 Welcome to the latest edition of our Employee Spotlight series, where we celebrate the outstanding talents within our team. This November, we're absolutely thrilled to introduce you to the exceptional Ben Young, our dedicated Premise Technician stationed at our Owenton office.
Ben's role is a dynamic mix of technical prowess and customer satisfaction. From installing wireless and cable internet to completing service calls, he ensures that every customer's experience ends with a smile.
Join us as we delve into Ben's journey at Broadlinc, exploring his skills, his dedication, and the impressive contributions he brings to our team!
Q & A with Ben
Tell us a little about yourself.
I grew up in Poplar Grove, outside of Owenton. I have been married to my wife Mandy for 25 years, and we have three children (Amber, Shelby & Dristen) and seven grandchildren (Lincoln, Jackson, Maisyn, Haislee, Palmer, Kennedy, & Collins).
How long have you been with Broadlinc?
I have worked for Broadlinc since September 2021.
What brought you to the company?
My son-in-law, Matt, who also works for Broadlinc, introduced me to the company and encouraged me to apply as a Premise Technician.
What do you like most about being a Premise Technician?
I love the flexibility of working with each customer and effectively completing each order or service call one-on-one. I like that every day is different.
What are you most proud of in your career so far?
I am most proud of my ability to learn and grow as an internet technician. I am not a tech-savvy person, but with good leadership, I've been able to learn so much and help our customers. 
What advice would you give to someone that wants to pursue a career in your field? 
My advice would be to be a people person.
How would you describe the culture at Broadlinc?
The culture at Broadlinc is just like a family. We are all friends and work together well. We all help each other.
What do you like most about the work we do at Broadlinc? 
I love that we give customers a better option for internet service than they usually have.
What do you enjoy doing in your spare time?
I enjoy being at home with my family. I like to hunt and fish when I have time.
If you could have any superpower, what would it be and why?
I want to be able to fly like an eagle. It would be cool to feel that freedom.
What's one thing on your bucket list? 
One thing I would like to do on my bucket list is to take a train ride through Switzerland in the winter.
What piece of advice would you give to your younger self? 
My advice would be to take more chances.

Written By Brittany Derderian, Director of Marketing
Brittany Derderian is the Director of Marketing at Broadlinc internet services. Her responsibilities include leading the company's marketing efforts, overseeing and growing the marketing department, consistently identifying revenue opportunities within our established client base and managing consistent growth by securing new accounts, collaborating with the leadership team to uncover insights and strategies to develop and implement marketing and branding strategies for new and existing products, and spearheading the strategic and tactical execution of marketing campaigns, including design of test/control segmentation, implementation of tests, tracking, results reporting, analysis, and recommendations. You can find her on the weekends enjoying the outdoors of Colorado with her husband, Logan Derderian.