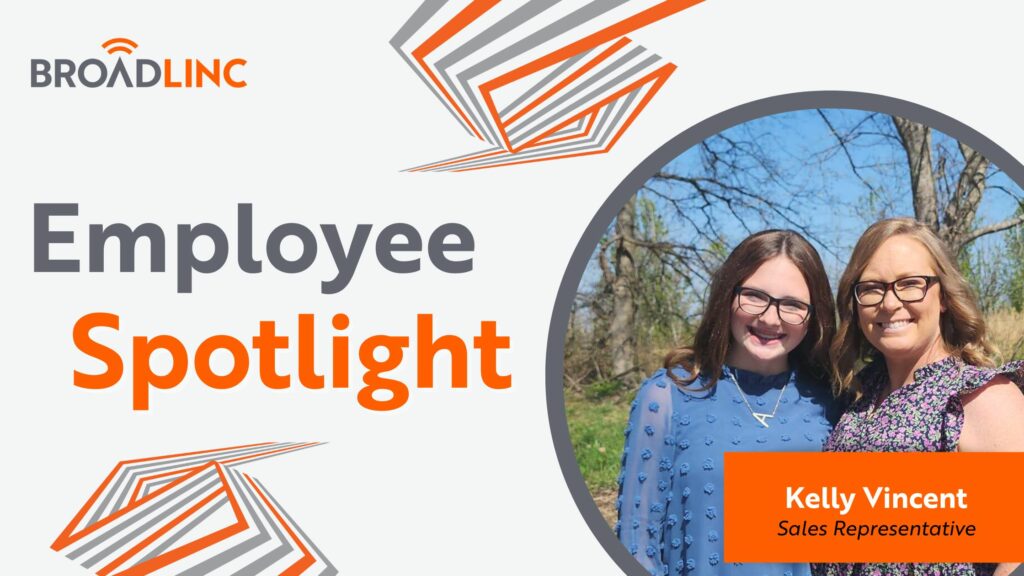 Step right into the latest installment of our Employee Spotlight series, where we showcase the brightest talents within our team. This month, we are absolutely delighted to introduce you to none other than Kelly Vincent, our stellar Sales Representative stationed at our Bremen office.
Kelly's role is a unique blend of building connections, friendships, and trust within our community. Her enthusiasm and dedication are truly contagious. Join us as we dive deeper into Kelly's journey at Broadlinc and discover what makes her shine in the world of sales!
Q & A with Kelly
Tell us a little about yourself.
Bremen, KY is where I was born and raised. My life has been blessed for nine years with my loving husband, Dennis, and our two incredible daughters, Alivia, who's 14, and Ady, who's 11.
How long have you been with Broadlinc?
I have worked for Broadlinc for one and a half years.
What brought you to the company?
My quest for a job led me to Broadlinc. The position caught my eye, as it seemed both intriguing and conveniently close to home.
What do you like most about being a Sales Representative?
Connecting with people in the community is what I cherish most about being a Sales Representative.
What advice would you give to someone that wants to pursue a career in your field? 
A career in sales is profoundly rewarding. It's an opportunity to forge daily connections with new people and build trust within the community.
How would you describe the culture at Broadlinc?
It's a very laid-back environment and low-stress for the most part.
What do you like most about the work we do at Broadlinc? 
I like being able to provide people with the essential services to those in need.
What do you enjoy doing in your spare time?
My spare moments are often occupied by race tracks, ball fields, or piano recitals. My kids keep me busy!
If you could have any superpower, what would it be and why?
Teleportation would be my superpower of choice, allowing me to travel instantly from one place to another.
What's one thing on your bucket list? 
The number 1 thing on my bucket list is traveling to New Zealand, which will likely happen next November.
What piece of advice would you give to your younger self? 
My advice would be to not worry about the small things and to follow your heart.

Written By Brittany Derderian, Director of Marketing
Brittany Derderian is the Director of Marketing at Broadlinc internet services. Her responsibilities include leading the company's marketing efforts, overseeing and growing the marketing department, consistently identifying revenue opportunities within our established client base and managing consistent growth by securing new accounts, collaborating with the leadership team to uncover insights and strategies to develop and implement marketing and branding strategies for new and existing products, and spearheading the strategic and tactical execution of marketing campaigns, including design of test/control segmentation, implementation of tests, tracking, results reporting, analysis, and recommendations. You can find her on the weekends enjoying the outdoors of Colorado with her husband, Logan Derderian.