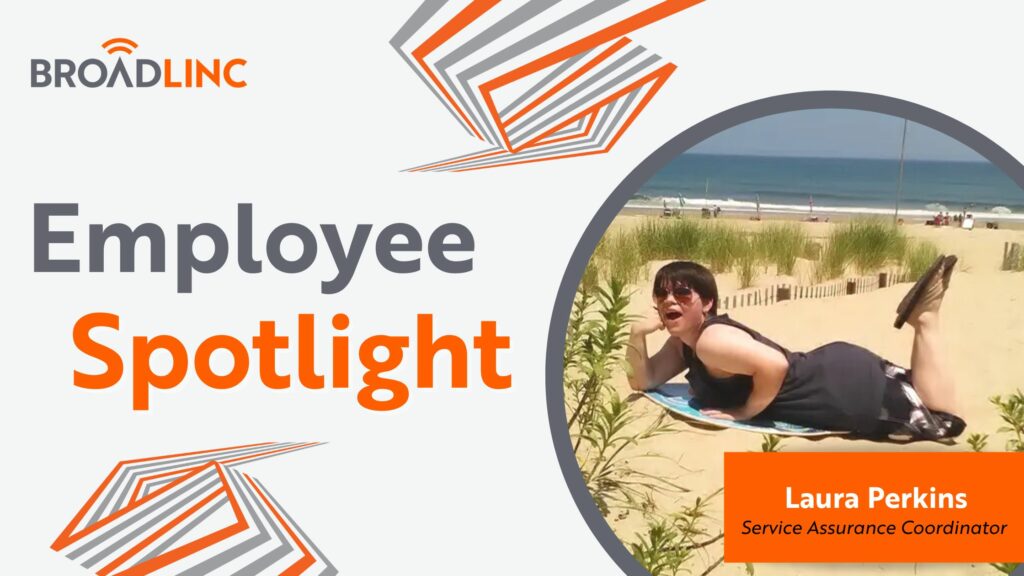 Step into the limelight with us as we unveil the newest star of our Employee Spotlight series for September! Prepare to be captivated by the remarkable journey of Laura Perkins, our exceptional Service Assurance Coordinator stationed in our Owenton office. With her unwavering dedication, Laura orchestrates seamless collaborations across departments to tackle customer concerns, ensuring that your needs are met promptly, whether it's installing our services or resolving any issues that may arise. Laura's mission? To swiftly usher you into the capable hands of our tech experts.
Q & A with Laura
Tell us a little about yourself.
I come from a long line of Owen County farmers. My family has been in this community for several generations. I plan to stay in this community and hopefully have a farm.
How long have you been with Broadlinc?
I've been with Broadlinc for a little over a year.
What brought you to the company?
I was looking for something more career-oriented to improve my work/life balance. Broadlinc offered that and continues to provide growth opportunities. Personally and professionally.
What do you like most about being a Service Assurance Coordinator?
I love that not every day is the same, and I face different challenges.
What are you most proud of in your career so far?
I'm proud of the current scheduling process that we have been able to create here.
What advice would you give to someone that wants to pursue a career in your field? 
My best advice is to be patient and learn to think on your feet.
How would you describe the culture at Broadlinc?
We have a very collaborative and friendly work culture.
What do you like most about the work we do at Broadlinc? 
I like that we improve people's quality of life by providing a service many otherwise wouldn't have access to. I also love that Broadlinc gets involved with the surrounding communities by attending events or providing a free public service.
What do you enjoy doing in your spare time?
I have too many hobbies. I've mostly been doing home renovations. I enjoy just about everything. Gaming, carpentry, hiking, and I love the process of building or creating, from working with clay and epoxy and putting together model spaceships to building structures.
If you could have any superpower, what would it be and why?
My superpower would be super strength, hands down. You can run fast, lift, climb, and jump over anything.
What's one thing on your bucket list? 
Hiking Mt. Fuji.
What piece of advice would you give to your younger self? 
Be patient and take it easy on yourself. Rome wasn't built in a day.

Written By Brittany Derderian, Director of Marketing
Brittany Derderian is the Director of Marketing at Broadlinc internet services. Her responsibilities include leading the company's marketing efforts, overseeing and growing the marketing department, consistently identifying revenue opportunities within our established client base and managing consistent growth by securing new accounts, collaborating with the leadership team to uncover insights and strategies to develop and implement marketing and branding strategies for new and existing products, and spearheading the strategic and tactical execution of marketing campaigns, including design of test/control segmentation, implementation of tests, tracking, results reporting, analysis, and recommendations. You can find her on the weekends enjoying the outdoors of Colorado with her husband, Logan Derderian.