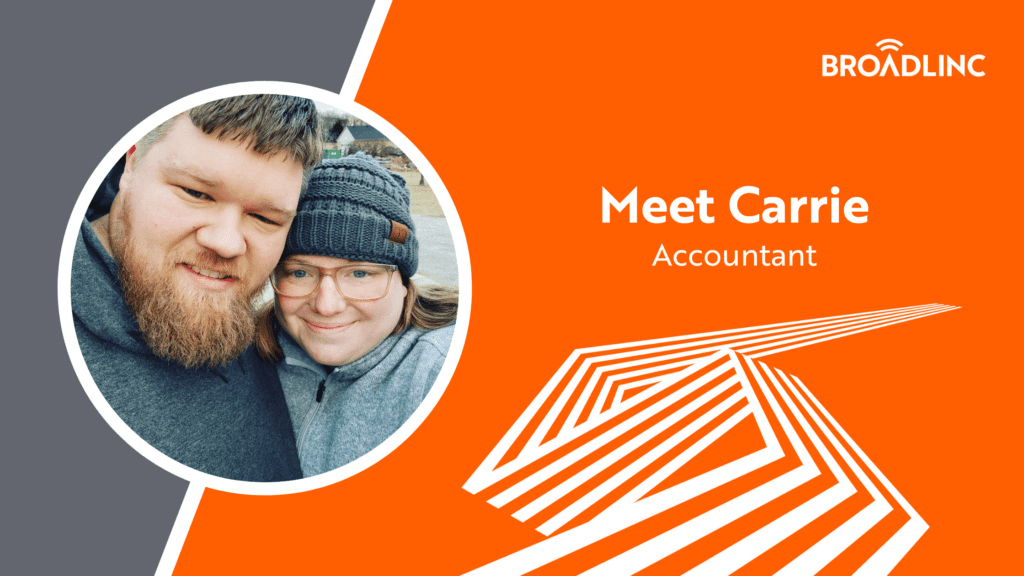 Employee Spotlight: Carrie Thornhill
Carrie Thornhill is an Accountant at Broadlinc working out of the Brooks office. She is responsible for managing accounts payables, daily deposits and other related duties.
Q & A with Carrie
How long have you been with Broadlinc?
I celebrated my 1-year anniversary in January of this year!
What brought you to the company?
I've been a stay-at-home mom for several years. With the kids getting a little older, it just seemed like a good time to get back into the workforce. Broadlinc was in a great location, and it worked great with easing me back into "working mom-life".
What do you like most about being an Accountant?
I love the structure! Life can be messy having 3 kids, but I know everything has a place when I come into the office. There are processes, checks, and balances. It all just makes sense.
How would you describe the culture at Broadlinc?
I've witnessed employees pull together to support each other in a crisis. It's wonderful to work for a company that has each others' backs!
What do you like most about working at Broadlinc?
I love the family-focused attitude.
What do you enjoy doing in your spare time?
Of course, there is spending time with my husband of almost 7 years and our 3 kids. However, I've recently started training our 2 Weimaraner pups, and I'm enjoying that more than I ever thought. I also enjoy serving in church and teaching the elementary kids.
How would your family or friends describe you in three words?
Joyful, creative, and family-focused.
Tell us something most people would be surprised to learn about you.
One of my bucket list items is to eat a good burger and spend the night in all 50 states. Though I have been to 30 of the 50 states, I can only claim the burger and sleeping in 4 so far.
If you can have an unlimited supply of one thing, what would it be and why?
Energy! Think of all I could do if I didn't get tired. *sigh* If only!
What is the best piece of advice you've ever been given?
Don't give up.

Written By Brittany Bowlin, Director of Marketing
Brittany Bowlin is the Director of Marketing at Broadlinc internet services. Her responsibilities include leading the company's marketing efforts, overseeing and growing the marketing department, consistently identifying revenue opportunities within our established client base and managing consistent growth by securing new accounts, collaborating with the leadership team to uncover insights and strategies to develop and implement marketing and branding strategies for new and existing products, and spearheading the strategic and tactical execution of marketing campaigns, including design of test/control segmentation, implementation of tests, tracking, results reporting, analysis, and recommendations. You can find her on the weekends enjoying the outdoors of Colorado with her fiancé, Logan Derderian.