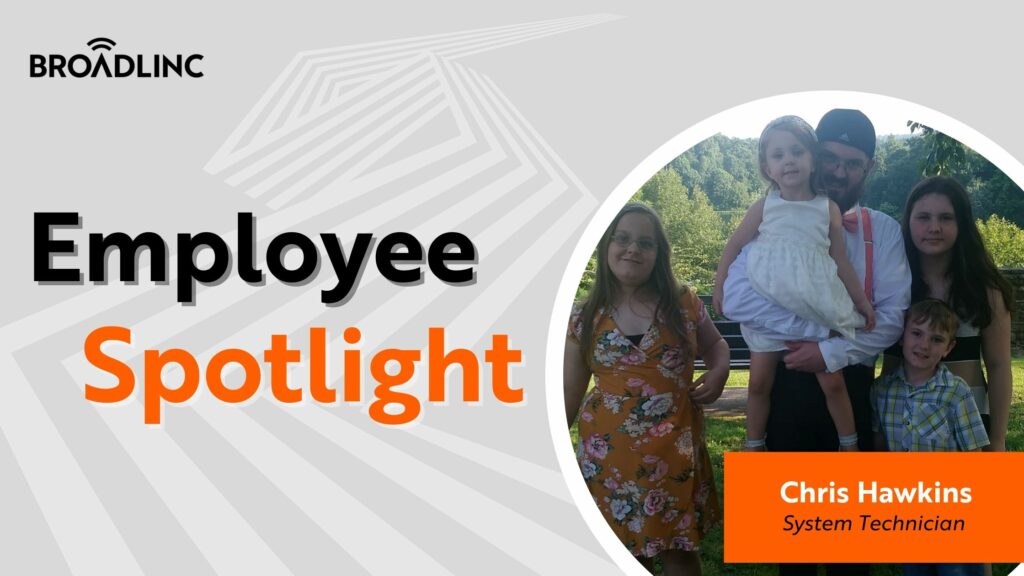 Meet our employee spotlight for February, Chris Hawkins, a System Technician at our Bremen office. He is responsible for service calls, installations, handling service outages, and line preventative maintenance. Chris takes pride in helping our customers get the most out of their technology and ensuring every installation or service call goes smoothly. If you've ever had the pleasure of meeting a Broadlinc technician from our Bremen office, it's pretty likely that Chris was the friendly face at your door!
Q & A with Chris
Tell us a little about yourself.
My name is Chris Hawkins. I'm 36 years old and live in Bremen, Kentucky. I have a beautiful little family that includes four children, three girls and one boy ranging in age from 7 to 15, they are a handful, but I wouldn't trade them for the world.
How long have you been with Broadlinc?
I have been with the company for almost three years.
What brought you to the company?
At the time, I moved into a new house and had my internet set up with Broadlinc, which had great deals on services I needed. When the technician came and set up my internet, we chatted a bit and had a great conversation. After a few days passed, one of Broadlinc's trucks pulled into my driveway. So I went to talk to the man to see what the problem was, and he asked me if I would be interested in a job. Of course, I delightfully agreed and have been with the company ever since.
What do you like most about being a System Technician?
I like the ever-evolving environment of my job. I like that I never stop learning; there's never a dull moment.
What are you most proud of in your career so far?
I don't feel I have accomplished anything that I can genuinely say that I am proud of because I think there is always more I could do or improve on in my work.
What advice would you give to someone that wants to pursue a career in your field? 
It's an amazing job because there are always ways to grow and learn.
How would you describe the culture at Broadlinc?
Broadlinc has a very family-oriented and understanding culture.
What do you like most about the work we do at Broadlinc? 
I like helping people.
What do you enjoy doing in your spare time?
I enjoy playing video games and spending time with my family and friends.
If you could have any superpower, what would it be and why?
It would be regeneration because I could live a very long life.
What's one thing on your bucket list? 
I would love to go skydiving.
What piece of advice would you give to your younger self? 
Things I would tell my younger self sometimes would be you have to keep on keeping on, and life is a garden; dig it.

Written By Brittany Derderian, Director of Marketing
Brittany Derderian is the Director of Marketing at Broadlinc internet services. Her responsibilities include leading the company's marketing efforts, overseeing and growing the marketing department, consistently identifying revenue opportunities within our established client base and managing consistent growth by securing new accounts, collaborating with the leadership team to uncover insights and strategies to develop and implement marketing and branding strategies for new and existing products, and spearheading the strategic and tactical execution of marketing campaigns, including design of test/control segmentation, implementation of tests, tracking, results reporting, analysis, and recommendations. You can find her on the weekends enjoying the outdoors of Colorado with her husband, Logan Derderian.