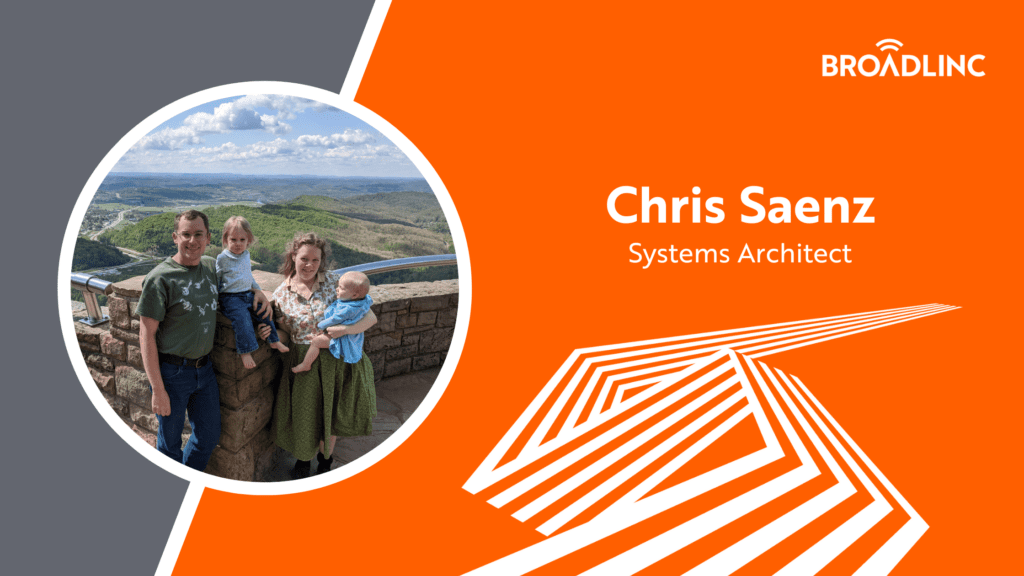 Employee Spotlight: Chris Saenz
Meet our employee spotlight for August, Chris Saenz. He is the Systems Architect at Broadlinc working out of the Owenton office. He is involved in a variety of internal projects and improvements, as well as planning new infrastructure. He also provides IT services to our business accounts. If you're a local business customer that needs computer help, Chris will be there to support you!
Q & A with Chris
Tell us a little about yourself.
I'm the oldest of seven, and I was homeschooled. My wife and I have three girls and are expecting. I moved to Owen County in 2018 to get out of the city, and I love the area. We live on an 80-acre farm near the Kentucky River.
How long have you been with Broadlinc?
Just over one year. I was a satisfied customer for several years before that.
What brought you to the company?
I was looking for a local business that would be an excellent fit for my skillset, and I liked the way Broadlinc treated me as a customer. I sent in my resume six months before they were even hiring!
What do you like most about being a Systems Architect?
I like solving problems and building things. This is what I get to do all the time at Broadlinc. Anything from security recommendations to training materials to office renovations; when I see things that need done, I make them happen. I never have a boring day!
How would you describe the culture at Broadlinc?
I love the family-friendly atmosphere. Everyone keeps it clean and professional. Being a small company, the camaraderie and teamwork here is the best of anywhere I've worked.
What do you like most about working at Broadlinc?
I am always learning new things. I love to expand my knowledge and skills, and Broadlinc is the perfect environment for that.
What do you enjoy doing in your spare time?
I spend time with my family on our rural homestead. Growing a garden, raising animals, and teaching my children to appreciate hard work and a simple life.
How would your family or friends describe you in three words?
I asked my wife, and she said "responsible, honest, and hard-working." I won't argue!
Tell us something most people would be surprised to learn about you.
I'm a professional musician. I have played guitar, banjo and fiddle in several bluegrass bands. I also run vehicles on wood instead of gasoline, and wrote a book on how that works.
If you can have an unlimited supply of one thing, what would it be and why?
Wisdom. I appreciate the small amount I have accumulated in life.
What is the best piece of advice you've ever been given?
Don't buy your wife a gift that plugs in.

Written By Brittany Derderian, Director of Marketing
Brittany Derderian is the Director of Marketing at Broadlinc internet services. Her responsibilities include leading the company's marketing efforts, overseeing and growing the marketing department, consistently identifying revenue opportunities within our established client base and managing consistent growth by securing new accounts, collaborating with the leadership team to uncover insights and strategies to develop and implement marketing and branding strategies for new and existing products, and spearheading the strategic and tactical execution of marketing campaigns, including design of test/control segmentation, implementation of tests, tracking, results reporting, analysis, and recommendations. You can find her on the weekends enjoying the outdoors of Colorado with her husband, Logan Derderian.