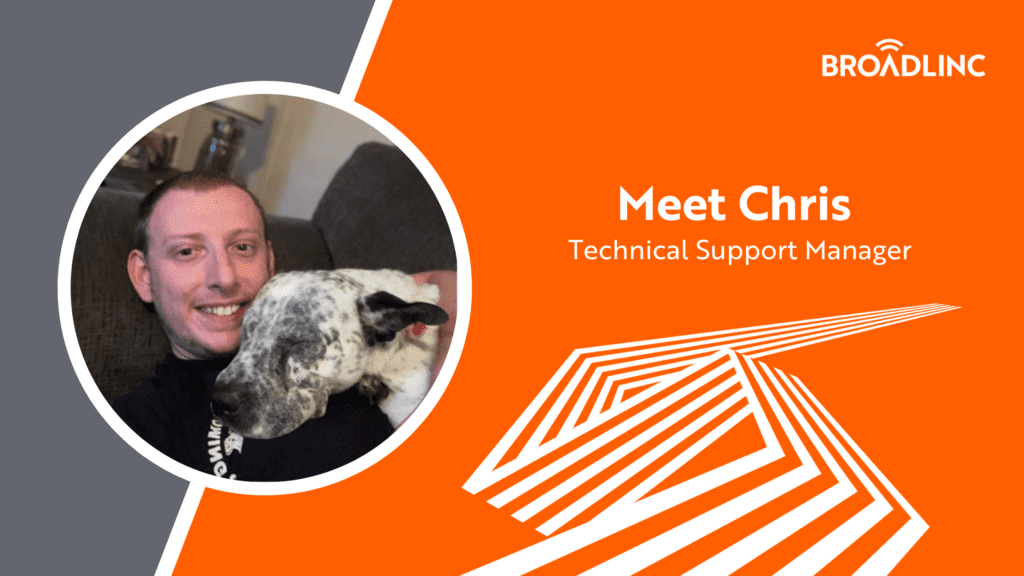 Employee Spotlight: Chris Townsend
Chris Townsend is the Technical Support Manager at Broadlinc working out of the Owenton office. He is responsible for overseeing all technical support operations and ensuring that our customers are taken care of when they have service issues.
Q & A with Chris
How long have you been with Broadlinc?
I started with the company June 2018.
What brought you to the company?
During that time, I lost my job and saw a job posting on Facebook for the company. I brought my resume in and met with the owner and our VP, TJ Scott, and was hired the next week.
Can you take us through a day in the life at Broadlinc?
My job is to ensure that our customers are taken care of if/when they have service issues. I have an amazing team that works under me that helps me handle everyday tasks. Normally, I start my day by catching up from emails/voicemails regarding service issues, making sure we have the correct technicians dispatching for the correct issues, and working closely with my team to communicate issues to customers and the company. Some days are more hectic than others, but it all depends on mother nature's mood that day.
What do you like most about being a Technical Support Manager?
I like how every day presents a new challenge for my team and me. We like to have a good challenge to correct every now and then!
How would you describe the culture at Broadlinc?
Coming from a factory setting for almost 5 years to an office setting was a big adjustment for me. I will say the company is so inviting and friendly. We look at our coworkers as family and not just a coworker. You really don't find this type of culture in many jobs today.
What do you like most about working at Broadlinc?
I love how each day brings a new challenge, the friendly work environment and our close nit company culture.
What do you enjoy doing in your spare time?
In my free time, I enjoy watching a good documentary on TV or just going out for a country drive on the backroads.
How would your family or friends describe you in three words?
Kind, courteous and caring.
Tell us something most people would be surprised to learn about you.
I am a true crime junkie. Anything and everything associated with true crime, you will find me there.
If can have an unlimited supply of one thing, what would it be and why?
Let's face it, anyone who knows me would answer it as I would and that would be COFFEE! You can never have too much coffee.
What is the best piece of advice you've ever been given?
From a YouTuber I used to watch, "Sometimes you have to slow down to go fast". To be a leader you must slow down and take the time to sharpen your skills to be able to "go fast" in a situation when it's needed. Sometimes I will get a new software for new technology Broadlinc is deploying and I must slow down and take the time to get to know the software before I am able to teach my team, so we can have a faster customer response to issues.

Written By Brittany Derderian, Director of Marketing
Brittany Derderian is the Director of Marketing at Broadlinc internet services. Her responsibilities include leading the company's marketing efforts, overseeing and growing the marketing department, consistently identifying revenue opportunities within our established client base and managing consistent growth by securing new accounts, collaborating with the leadership team to uncover insights and strategies to develop and implement marketing and branding strategies for new and existing products, and spearheading the strategic and tactical execution of marketing campaigns, including design of test/control segmentation, implementation of tests, tracking, results reporting, analysis, and recommendations. You can find her on the weekends enjoying the outdoors of Colorado with her husband, Logan Derderian.