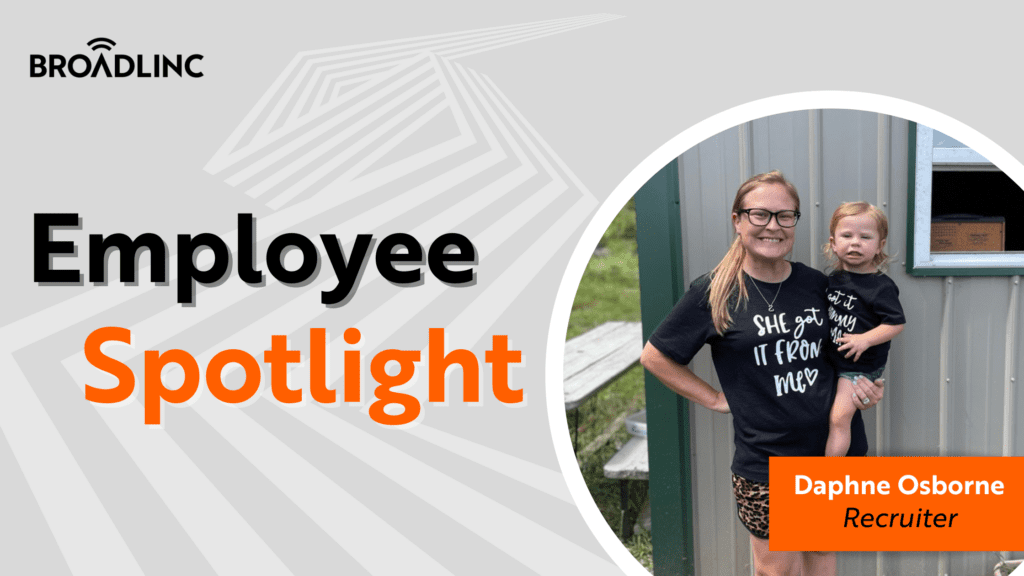 Employee Spotlight: Daphne Osborne
Meet our employee spotlight for September, Daphne Osborne. She is Broadlinc's Recruiter working out of the Owenton office. She is responsible for creating job descriptions for postings, reaching out to the applicants for a pre-interview call, reporting back to hiring managers on potential candidates, and helping with accounting tasks and month-end reporting. If you have experienced our hiring process, you've most likely interacted with Daphne!
Q & A with Daphne
Tell us a little about yourself.
I've lived in Owen County my entire life and would never want to be anywhere else! I've been married to my husband, Robbie Osborne Jr., for six years next month. However, we started this wild ride back in 2007. Also, we have two beautiful children: Robbie III (4) and Randie Kate (1).
How long have you been with Broadlinc?
Next month on the 25th, I will have been with Broadlinc for a year. There are lots of exciting things happening in October in my world!
What brought you to the company?
The job I had before this one did not offer any chance for advancement, so it was time for me to move on to better opportunities for myself and my family.
What do you like most about being a Recruiter?
I enjoy creating job descriptions for postings because I've learned more about each role in our company and what we do a little further in detail.
How would you describe the culture at Broadlinc?
Amazing! Even though I work from home, I still talk to almost everyone regularly. We all cut up and give each other a hard time, just as you would with your own family, and I LOVE that!
What do you like most about working at Broadlinc?
Recently, I talked to leadership the other day about our work culture, and I expressed that I've never worked anywhere before where I felt valued by my employer as I do here at Broadlinc.
What do you enjoy doing in your spare time?
Spare time? What's that? I have two children, so there is no such thing as that around here!
How would your family or friends describe you in three words?
After checking with a few friends, they said: Spunky, determined, and a good mentor.
Tell us something most people would be surprised to learn about you.
I am an open book and pretty basic. So there isn't much that people don't know about me.
If you can have an unlimited supply of one thing, what would it be and why?
Time. Babies don't keep, and life is too short!
What is the best piece of advice you've ever received?
There are two things my daddy used to tell me that will always hold true to me, and those are, "They don't care what you look like, Daphne, as long as they get your money," and, "It takes all kinds to make this world go 'round".

Written By Brittany Derderian, Director of Marketing
Brittany Derderian is the Director of Marketing at Broadlinc internet services. Her responsibilities include leading the company's marketing efforts, overseeing and growing the marketing department, consistently identifying revenue opportunities within our established client base and managing consistent growth by securing new accounts, collaborating with the leadership team to uncover insights and strategies to develop and implement marketing and branding strategies for new and existing products, and spearheading the strategic and tactical execution of marketing campaigns, including design of test/control segmentation, implementation of tests, tracking, results reporting, analysis, and recommendations. You can find her on the weekends enjoying the outdoors of Colorado with her husband, Logan Derderian.