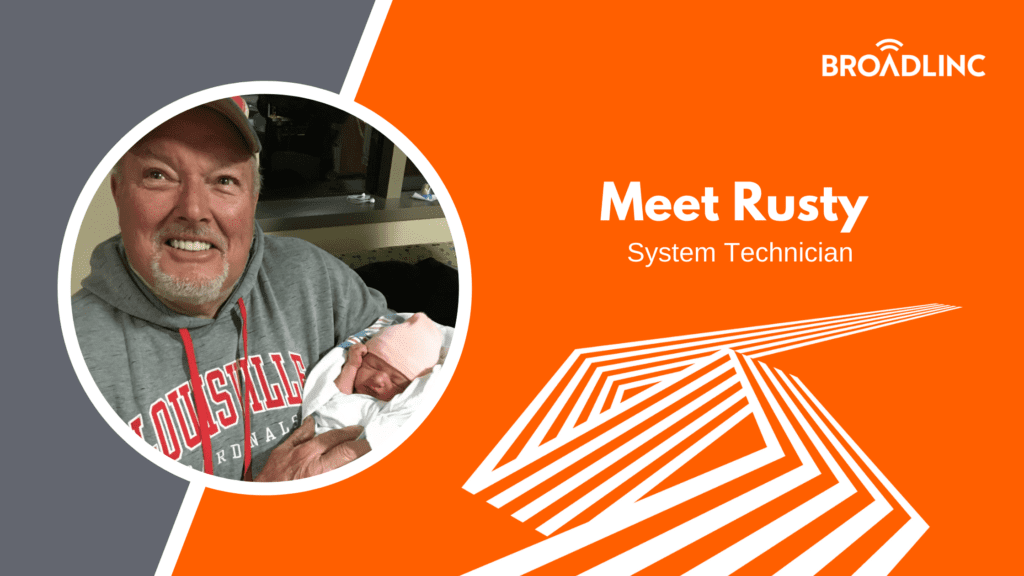 Employee Spotlight: Rusty Smith
Rusty Smith is the System Technician at Broadlinc working out of the Brooks office. He is responsible for taking service calls, installations, repairs and covering all outages. If you experience a service outage in the Brooks area, Rusty is the technician to help take care of you!
Q & A with Rusty
How long have you been with Broadlinc?
I was one of two founders of Inside Connect Cable in 2004, which served the Shepherdsville/Bullitt County area. We purchased the Brooks system and then sold off the original portion that served Shepherdsville. I then sold my percentage of Brooks and moved to Charleston, SC in 2011. When the family returned to Louisville in 2012, I went to work for Inside Connect Cable and continued to work for the company until it was purchased by White Cloud Communications.
What do you like most about being a System Technician?
I love that my job is very diverse and always changing. The variety allows me to interact with our customers and my peers. I am proud to represent Broadlinc by offering quick and efficient service, and keeping our customers satisfied.
How would you describe the culture at Broadlinc?
It's more like a family and friends atmosphere than anything else. I've worked for larger corporations and this feels more like home.
What do you like most about working at Broadlinc?
Broadlinc's culture is rare to find with most companies today. Everyday is challenging and different, and I have a great team that's there to help when you need it.
What do you enjoy doing in your spare time?
I enjoy spending time with my wife, three children, and four grandchildren. I also love traveling and going to places I have never visited.
How would your family or friends describe you in three words?
Kind, generous, and dependable (per my wife).
Tell us something most people would be surprised to learn about you.
I've traveled around the world and the US. I worked in Jakarta, Indonesia for 5 ½ years from 1996-2001. This allowed my family and I to visit Jakarta, Bali and Lombok, Indonesia.  We also traveled outside the US to Singapore, China, Spain, Ireland, Niagara Falls and Toronto, Canada. Within the US, we've visited Washington State, New Mexico, Nevada, and I have worked as a contractor all over-Texas, Delaware, Florida, Arkansas, and many others.
If can have an unlimited supply of one thing, what would it be and why?
You can never have enough good friends and family! No matter the situation, good or bad, a true friend will be by your side.
What is the best piece of advice you've ever been given?
To always look ahead and never dwell on the past.

Written By Brittany Derderian, Director of Marketing
Brittany Derderian is the Director of Marketing at Broadlinc internet services. Her responsibilities include leading the company's marketing efforts, overseeing and growing the marketing department, consistently identifying revenue opportunities within our established client base and managing consistent growth by securing new accounts, collaborating with the leadership team to uncover insights and strategies to develop and implement marketing and branding strategies for new and existing products, and spearheading the strategic and tactical execution of marketing campaigns, including design of test/control segmentation, implementation of tests, tracking, results reporting, analysis, and recommendations. You can find her on the weekends enjoying the outdoors of Colorado with her husband, Logan Derderian.