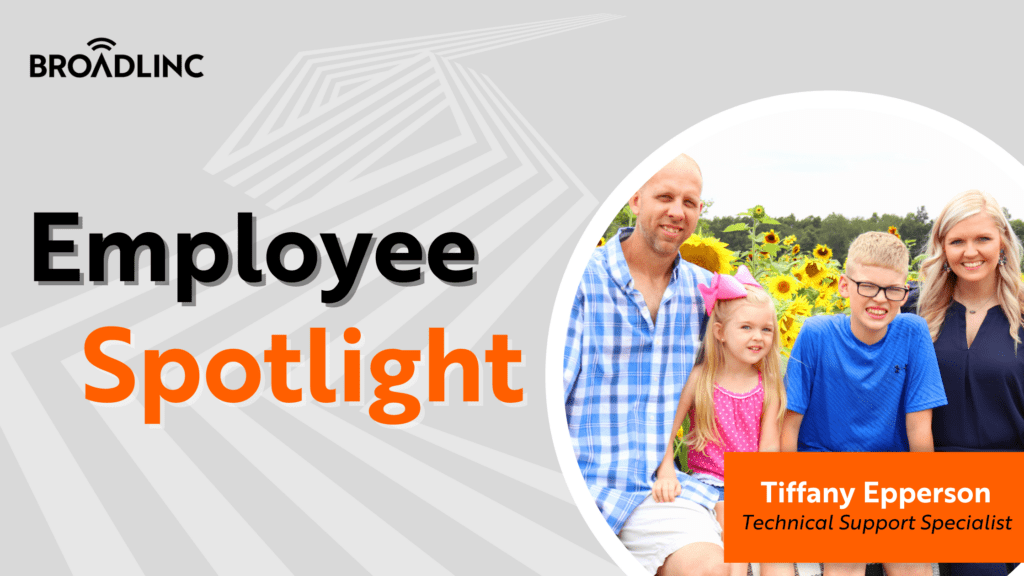 Meet our employee spotlight for March, Tiffany Epperson, the Technical Support Specialist who brings dedication and professionalism to our Owenton office. Tasked with the crucial responsibility of addressing customer calls and emails, Tiffany's exceptional communication skills are evident in every interaction. Guiding customers through troubleshooting methods with patience and expertise, she ensures their issues are efficiently resolved. During outages, Tiffany is the vital link between our clients and technicians, balancing her keen ability to multitask. Additionally, she diligently attends to setting up service calls when required. So, if there's familiarity in the voice of one of our support specialists you've conversed with over the phone, it's highly likely you've had the pleasure of chatting with Tiffany!
Q & A with Tiffany
Tell us a little about yourself.
I was born and raised in Stamping Ground. I moved to Owen County roughly 11 years ago when I met my Husband, Derrick. We have two amazing kids, Landen and Sadie. In addition, we have four dogs and several barn cats, and a peacock.
How long have you been with Broadlinc?
I have been with the company for a little over a year and a half. 
What brought you to the company?
I wanted to work closer to home and be closer to my kids for their after-school events. At the time, Broadlinc had an open position that checked both of those boxes!
What do you like most about being a Technical Support Specialist?
Every day is different, so it keeps me on my toes.
What advice would you give to someone that wants to pursue a career in your field? 
Be patient; there's always something new to learn!
How would you describe the culture at Broadlinc?
The culture at Broadlinc is close-knit; everyone is willing to help everyone.
What do you like most about the work we do at Broadlinc? 
I like that we service small-town communities because we can develop relationships with those we serve.
What do you enjoy doing in your spare time?
I enjoy being with my family, sporting events, photography, hunting, and fishing.
If you could have any superpower, what would it be and why?
Oh, that's an easy and hard one at the same time. It would be a combination of curing cancer and bringing back loved ones.
What's one thing on your bucket list? 
I'd love to see and experience Rome, Italy, and Hawaii.
What piece of advice would you give to your younger self? 
Have faith; doors close so that better ones open. Then, you'll end up right where you're supposed to be.

Written By Brittany Derderian, Director of Marketing
Brittany Derderian is the Director of Marketing at Broadlinc internet services. Her responsibilities include leading the company's marketing efforts, overseeing and growing the marketing department, consistently identifying revenue opportunities within our established client base and managing consistent growth by securing new accounts, collaborating with the leadership team to uncover insights and strategies to develop and implement marketing and branding strategies for new and existing products, and spearheading the strategic and tactical execution of marketing campaigns, including design of test/control segmentation, implementation of tests, tracking, results reporting, analysis, and recommendations. You can find her on the weekends enjoying the outdoors of Colorado with her husband, Logan Derderian.