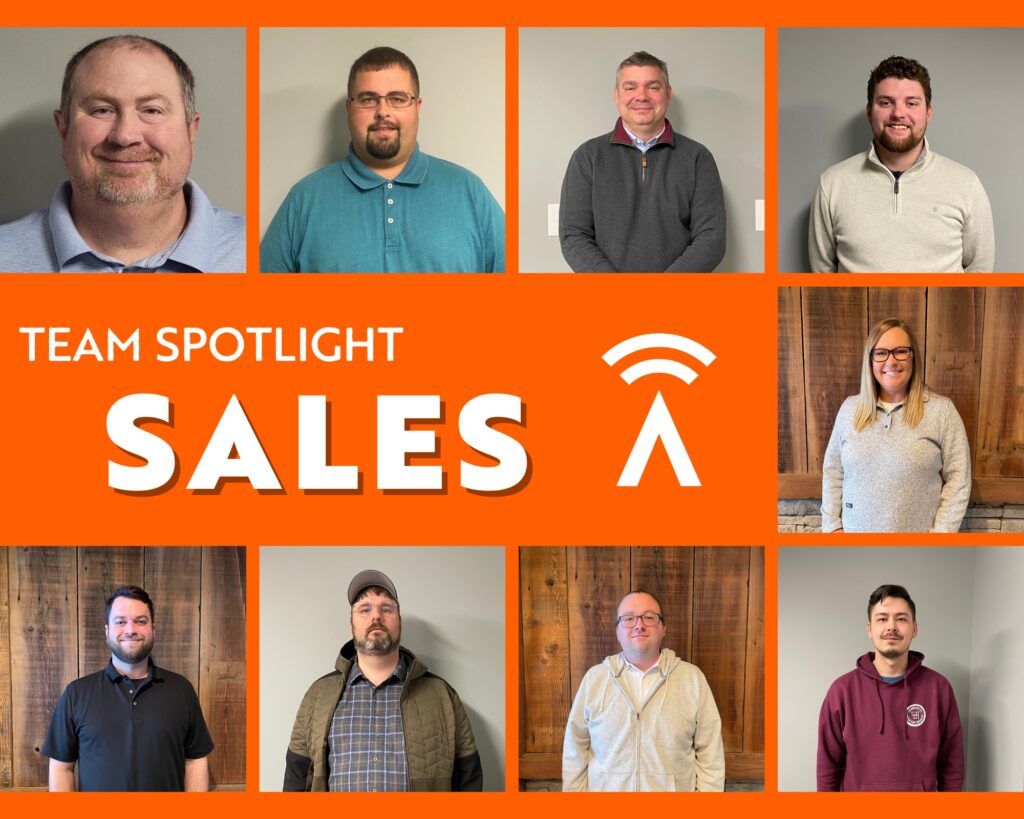 The Sales Team Spotlight: 800 Net Adds in Q1-Q2 and Their Path to Success
In this month's spotlight, we're thrilled to feature our sales team for hitting a major milestone: 800 net adds in Q1-Q2. This was no small feat, and the team's success is due in large part to their focus on delivering exceptional value. "They are a shining example of what can happen when our team works together and keeps their customers at the forefront of every piece they do, and I'm so excited to see them break this record and continue to grow as we head into the second half of the year," said Jamie Humphrey, Vice President of Sales.
Humphrey is responsible for sales across all rural markets. He has worked in direct sales for 18+ years and has developed many direct sales organizations from the ground up. When asked about his team's success, Humphrey said, "It all started with growing our team substantially while being asked to achieve company wide sales targets. What seemed to be impossible, they made it possible. They stepped up to the challenge and delivered beyond expectations. For that, I am incredibly proud of my team and their accomplishments."
Field Sales Manager, Stanley Patton, had a few words to share about his and the team's experience during those four months of hard work and dedication. "On January 18th, our sales team was hit with a giant task to acquire 800 new customers by April 30th. We had a tough challenge ahead of us. A task that was beyond daunting, but we didn't back down from the challenge and instead raised our heads high in determination to succeed. Our success did not come without challenges. We were working tireless hours and putting everything on hold to meet the acquisition goal. We worked hard and conquered in the end," said Patton.
Patton is from Owenton, KY and was Humphrey's first hire back in late July of 2021. He was promoted to Field Sales Manager three months later due to his outstanding track record of acquiring 300 customers in less than a year. His goal is to help the team meet that same mark in their first year as well. "The drive and passion our team has for this company is unparalleled, and that is why I would walk into any fire with my fellow teammates. They shattered records and set us up as a strong competitor and reliable resource for our communities," commented Patton.
Humphrey spends an extensive amount of time training each sales representative before releasing them into the field. "I take them from start to finish in the sale process. From asking questions to providing solutions that best suits the customer's needs, my goal is to keep them focused on what matters most for each individual client and not just for one sale at a time. This ensures that every step of the sale process delivers value to the client from start to finish," said Humphrey.
"When Jamie hired me on, I had little experience in sales. I wasn't sure what to expect, but it worked out tremendously for me. His training set me up for success, and ultimately that is his goal for his team. He wants everyone to succeed and will leave no one behind. He took each of us under his wing, and we've been soaring ever since," said Patton.
Humphrey's team continues to deliver a stellar track record of results as they enter Q3. Their hard work and dedication have helped position Broadlinc for even more success in the future. If you're interested in joining Broadlinc's sales team, apply today.
Sales Team listed as pictured above: VP of Sales Jamie Humphrey, Field Sales Manager Stanley Patton, Territory Sales Manager Steve Wills, Sales Representatives Cameron McAnally, Kelly Vincent, Edgar Lancaster, Walker Hall, Mike Huckaby and Brian Trammel.

Written By Brittany Bowlin, Director of Marketing
Brittany Bowlin is the Director of Marketing at Broadlinc internet services. Her responsibilities include leading the company's marketing efforts, overseeing and growing the marketing department, consistently identifying revenue opportunities within our established client base and managing consistent growth by securing new accounts, collaborating with the leadership team to uncover insights and strategies to develop and implement marketing and branding strategies for new and existing products, and spearheading the strategic and tactical execution of marketing campaigns, including design of test/control segmentation, implementation of tests, tracking, results reporting, analysis, and recommendations. You can find her on the weekends enjoying the outdoors of Colorado with her fiancé, Logan Derderian.