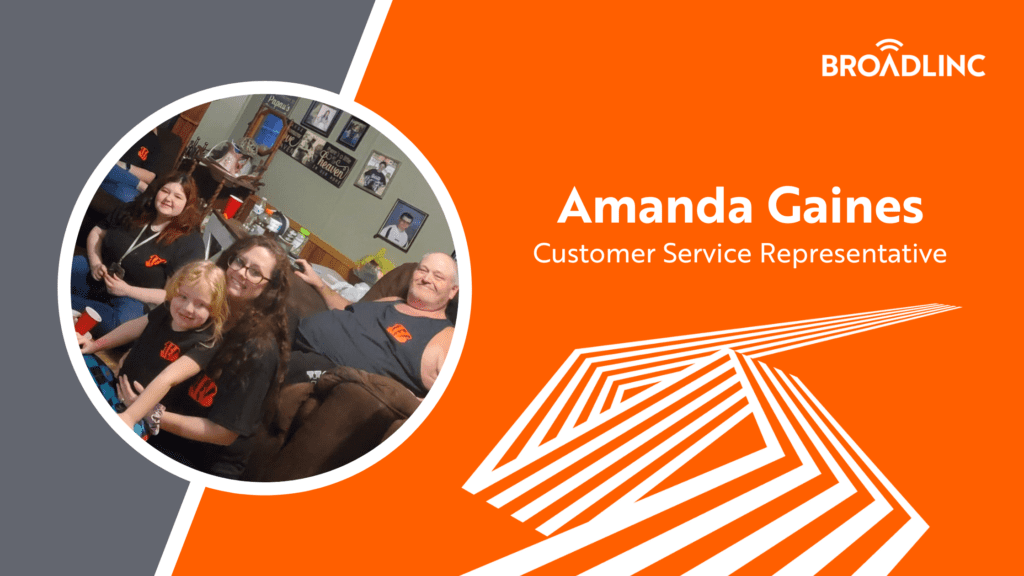 Employee Spotlight: Amanda Gaines
Meet our employee spotlight for June, Amanda Gaines. She is a Customer Service Representative at Broadlinc working out of the Owenton office. She is responsible for communicating with customers, processing payments, handling billing issues and scheduling installs.
Q & A with Amanda
How long have you been with Broadlinc?
I have been with the company for almost 2.5 years.
What brought you to the company?
I heard about the job through a friend and thought the position was perfect for me because I had previous experience working in customer service. I wanted to stay in the same field and work locally, so I applied for the position and got it!
What do you like most about being a Customer Service Representative?
I love being able to build relationships with customers and be the face of the company. In this field, I believe it is important to have a "people-first" attitude and treat customers like they are your own family.
How would you describe the culture at Broadlinc?
Broadlinc is very people-oriented, professional, and respectful to both employees and customers. We all work together to provide the best customer experience and we are always looking for ways to improve.
What do you like most about working at Broadlinc?
The employees here actually care for one another, and we truly are a family. I love everything about what we stand for and couldn't be prouder to be a part of this amazing team!
What do you enjoy doing in your spare time?
I love laser engraving, crafting, spending time with my family, learning new skills by watching "How To" videos on YouTube, cooking, taking pictures and going on walks.
How would your family or friends describe you in three words?
My family and friends would describe me as caring, funny and hardworking
Tell us something most people would be surprised to learn about you.
I wanted to be a tornado chaser growing up and I love old-school hip-hop music!
If you can have an unlimited supply of one thing, what would it be and why?
Time and knowledge! Time goes by so fast and I want to spend as much time as I can with my family. Knowledge because I could make a difference in the world. Also, Reese eggs!
What is the best piece of advice you've ever been given?
"Don't regret the past and don't be anxious about the future. Appreciate what is happening right now." Also, "always trust your instincts".

Written By Brittany Derderian, Director of Marketing
Brittany Derderian is the Director of Marketing at Broadlinc internet services. Her responsibilities include leading the company's marketing efforts, overseeing and growing the marketing department, consistently identifying revenue opportunities within our established client base and managing consistent growth by securing new accounts, collaborating with the leadership team to uncover insights and strategies to develop and implement marketing and branding strategies for new and existing products, and spearheading the strategic and tactical execution of marketing campaigns, including design of test/control segmentation, implementation of tests, tracking, results reporting, analysis, and recommendations. You can find her on the weekends enjoying the outdoors of Colorado with her husband, Logan Derderian.