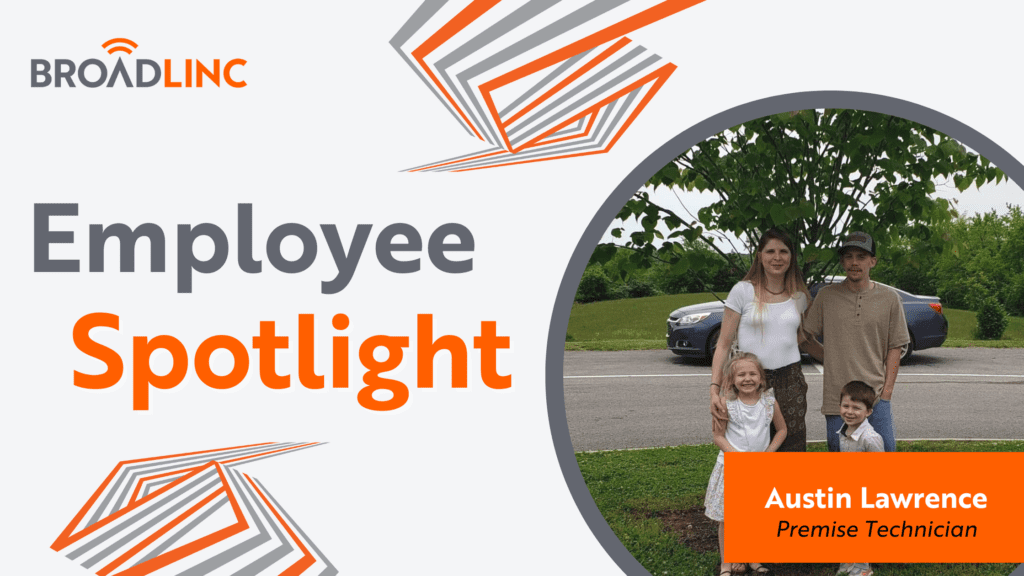 Step into the spotlight as we proudly present the newest installment of our Employee Spotlight series! This August, we're delighted to showcase Austin Lawrence, an outstanding Premise Technician stationed at our Owenton office. From scaling towering utility poles to navigating the enigmatic world of crawl spaces, Austin's role embodies excitement and diversity. Join us on this journey to uncover the fascinating life of a professional who thrives amidst challenges and brings unparalleled energy to every day.
Q & A with Austin
Tell us a little about yourself.
I'm from Owenton, KY, my lifelong hometown where I also received my education. Within my family, I am a proud parent to two wonderful children named Macie and Chandler.
How long have you been with Broadlinc?
This coming September, I will celebrate my second anniversary working at Broadlinc.
What brought you to the company?
The pivotal factor in my decision was the opportunity to work locally and contribute to my local community.
What do you like most about being a Premise Technician?
The freedom of working outdoors and avoiding the monotony of an eight-hour desk job is what I value most about my role.
What are you most proud of in your career so far?
I take pride in my deep understanding of internet systems and technology.
What advice would you give to someone that wants to pursue a career in your field? 
Be prepared for heights and a bit of climbing in this line of work.
How would you describe the culture at Broadlinc?
At Broadlinc, we foster a warm and supportive atmosphere where everyone collaborates and supports one another.
What do you like most about the work we do at Broadlinc? 
I enjoy contributing towards fulfilling our customers' internet needs.
What do you enjoy doing in your spare time?
When I'm not working, I love spending quality time with my family or catching up on Kentucky basketball.
If you could have any superpower, what would it be and why?
I would choose the power of flight, so I can experience the freedom of traveling anywhere.
What's one thing on your bucket list? 
I would love to visit the Bahamas.
What piece of advice would you give to your younger self? 
I would tell my younger self to prioritize saving early and making wise financial decisions, as the cost of living is bound to increase over time.

Written By Brittany Bowlin, Director of Marketing
Brittany Bowlin is the Director of Marketing at Broadlinc internet services. Her responsibilities include leading the company's marketing efforts, overseeing and growing the marketing department, consistently identifying revenue opportunities within our established client base and managing consistent growth by securing new accounts, collaborating with the leadership team to uncover insights and strategies to develop and implement marketing and branding strategies for new and existing products, and spearheading the strategic and tactical execution of marketing campaigns, including design of test/control segmentation, implementation of tests, tracking, results reporting, analysis, and recommendations. You can find her on the weekends enjoying the outdoors of Colorado with her fiancé, Logan Derderian.