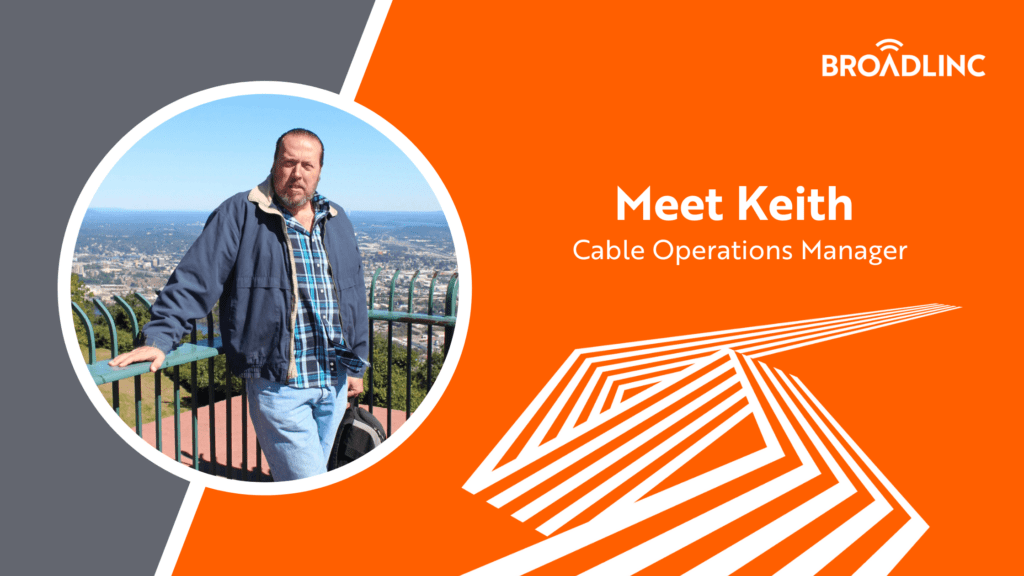 Employee Spotlight: Keith Sherman
Keith Sherman is the Cable Operations Manager at Broadlinc working out of the Bremen office. He is responsible for training, quality performance, productivity, daily management and all aspects of a significant piece of our overall business/installation technicians.
Q & A with Keith
How long have you been with Broadlinc?
I started here with the previous owners since July of 2012. I've been with the company since its beginning as White Cloud Communications.
What brought you to the company?
Behind my back, my wife submitted an application for me. I received a call from the company saying they needed someone with my background. I was like, "WHAAAAT??! Of course, sign me up!"
What do you like most about being a Cable Operations Manager?
I've always loved working in cable operations. I love that it's always changing and no matter how long you've been doing it, you will always learn something new.
How would you describe the culture at Broadlinc?
It's more like a family and friends atmosphere than anything else. I've worked for larger corporations and this feels more like home.
What do you like most about working at Broadlinc?
I love the opportunity of being able to teach what I know to younger people who are eager to learn.
What do you enjoy doing in your spare time?
It's either driving around in the Smokey Mountains or deep sea fishing in the Atlantic.
How would your family or friends describe you in three words?
I asked my wife and she said, "father-papaw-pirate". When my granddaughter was young, she told someone that she knew how to spell papaw. P.I.R.A.T.E.  One day, when I got home from work, she told me to take my "pirate" self to my room. Apparently, I looked like I was in a bad mood. I just nodded and headed that direction. Also, I asked my technicians and they said, "intelligent and humorous".
Tell us something most people would be surprised to learn about you.
I love to teach! I taught Sunday School, I tutored college students in various advanced math classes i.e. geometry, trig, and calculus, and I teach my technicians what they need to know today. I've been told I missed my calling!
If can have an unlimited supply of one thing, what would it be and why?
If I can have an unlimited supply of one thing, it would be patience.
What is the best piece of advice you've ever been given?
"You are responsible for your own happiness. If you're not happy, change your circumstances or your thoughts that make you unhappy." Also, "Treat everyone how you would want to be treated no matter what the situation is" was always a good one too.

Written By Brittany Derderian, Director of Marketing
Brittany Derderian is the Director of Marketing at Broadlinc internet services. Her responsibilities include leading the company's marketing efforts, overseeing and growing the marketing department, consistently identifying revenue opportunities within our established client base and managing consistent growth by securing new accounts, collaborating with the leadership team to uncover insights and strategies to develop and implement marketing and branding strategies for new and existing products, and spearheading the strategic and tactical execution of marketing campaigns, including design of test/control segmentation, implementation of tests, tracking, results reporting, analysis, and recommendations. You can find her on the weekends enjoying the outdoors of Colorado with her husband, Logan Derderian.