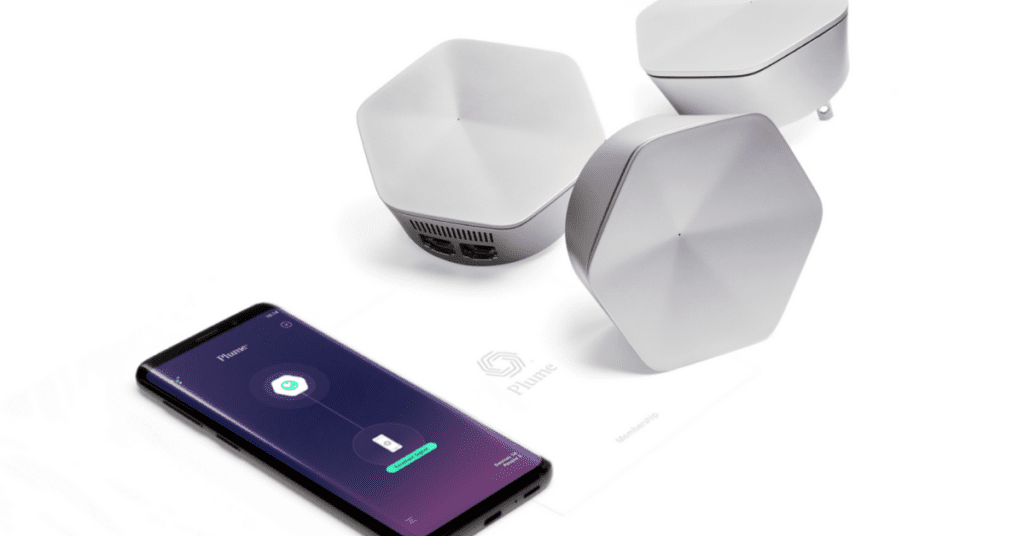 How Plume HomePass Improved Corey's Wifi Signal
As a remote Director of National Projects for Insurcomm with a family of five, Corey needs a lot of bandwidth. However, his current equipment wasn't meeting his wifi needs. He called in about slow speeds and issues with video conferencing. The Broadlinc team visited his home and decided the Plume HomePass with mesh wifi extenders would be the best solution to his problem.
After installation, Corey expressed he saw a big improvement in his wifi signal immediately such as zero lagging and an enhanced video conferencing experience. Overall, it brought a peace-of-mind to him and his family, and he has been a big promoter of Broadlinc ever since installation.
The Story of Corey Brandon
Corey Brandon is the Director of National Projects for a National Restoration Contractor called Insurcomm. He is also a member of the New Liberty Fire & Rescue Department. He has a wife and four kids, and resides in Perry Park, Kentucky.
He has multiple computers for business, and his kids have a variety of different consoles and computers doing all things from school, work, zoom meetings, gaming and more. Corey works remotely, therefore, having a sufficient wifi signal is vital for his job.
He tried Hughes Net and Verizon and wasn't thrilled with their service. He later found Broadlinc and signed up for internet service. "From excellent wifi to wonderful customer service, Broadlinc is a true winner in their industry," said Brandon.
"Our business is national and requires us to have the absolute best wifi to communicate thoroughly and to complete projects abroad." Since installation, he has been a Broadlinc customer for over five years.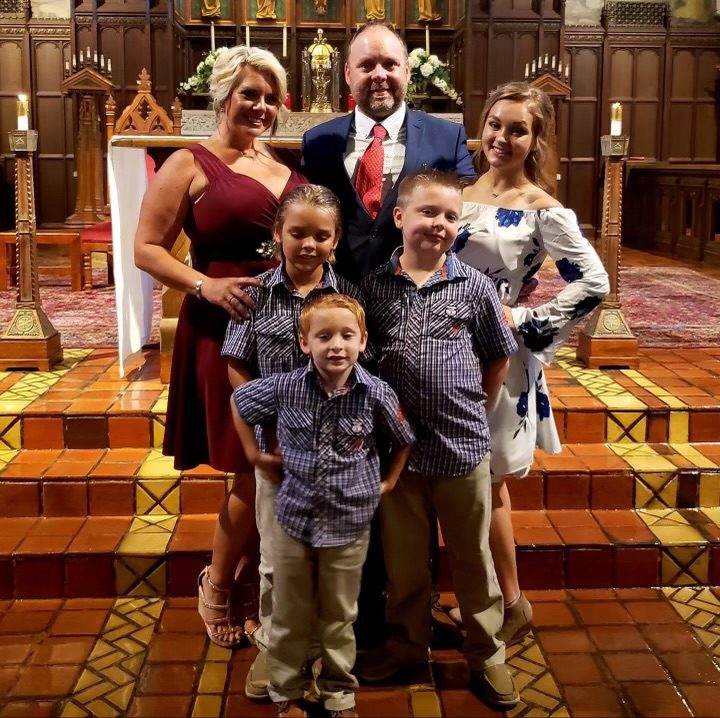 Corey called in explaining he was experiencing slower speeds and issues with video conferencing.
"Initially, I had slower than needed internet speed. I was getting a lot of static, dropped video calls, cutting out, etc. I reached out to our I.T. dept and they ran multiple tests on my computer. They stated it was due to insufficient wifi," said Brandon.
"So, then I called Broadlinc and discussed it with the technicians. They first suggested I bump up the speed, but then the tech had TJ call me and we discussed the issues further. He suggested to give the Plume HomePass a whirl."
TJ Scott, VP of Operations, worked closely with Corey on resolving his wifi issues. "Corey had little to no wifi signal in multiple parts of the home because he had a lot of walls and conditions that prevented solid wifi coverage with a single router," said Scott. "We looked at the home and decided it would be best to go with Plume HomePass and a mesh design, which places wifi mesh extenders in areas closer to where the users were located throughout the home."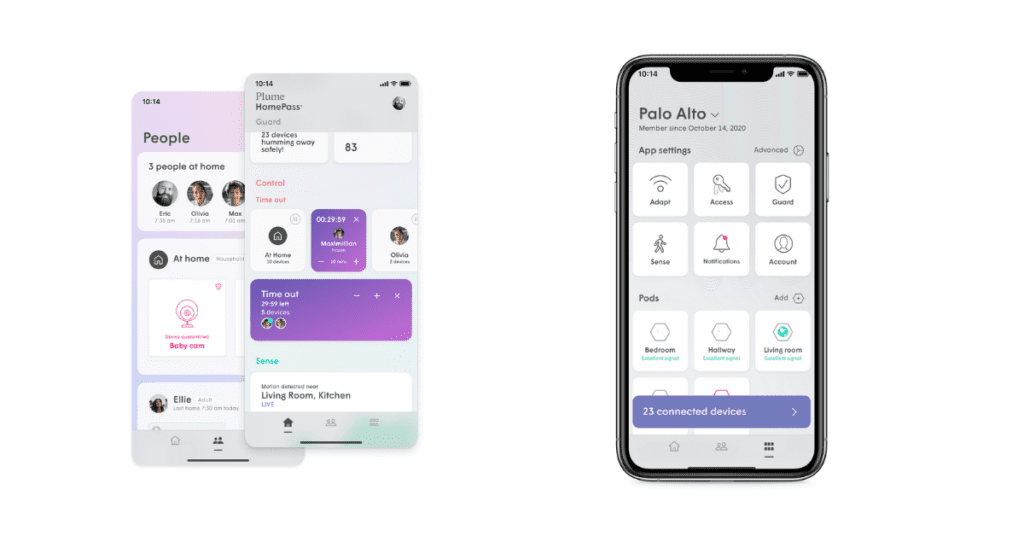 The Power of Personalization: Plume HomePass
Plume's HomePass allows customers to see, optimize, and control their wireless network from a simple interface that enables an array of Smart Home Services through Plume.
"HomePass is a proven cloud-based proactive managed networks service. Plume gives a top tier service that provides a self-healing network and allows us to use third-party compatible hardware while maintaining the same management and self-support experience. The best part; you get full control over your wifi network using the HomePass app," commented Scott.
Plume's HomePass service gives the Broadlinc support team a look at the fidelity of the wifi experience remotely. It allows their customers to have control over their setup and experience. "We wanted to be able to give our customers control, while being able to support every aspect of the deployment," said Scott.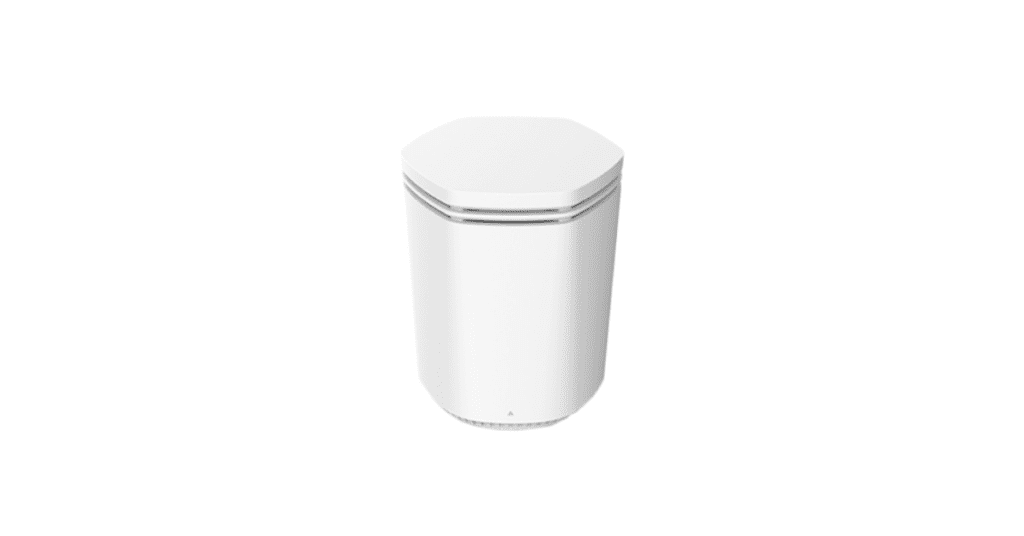 Sprinkle in the Mesh Extenders
Along with Plume HomePass, the team placed Plume mesh extenders, smaller wifi "radios", throughout his home to help extend his wifi coverage and improve his wireless signal strength. "Distance, blockades such as walls, and other electronics between the end user and the wifi connection creates interference, which weakens the signal. When you get the access points closer to the end user, you remove the interference," said Scott.
"Plume's mesh extenders not only make this happen, but they also give a guided setup telling you when you need to be closer to the main unit, need more extenders, and allows you to connect on multiple extenders as one network. You only see one SSID and enter one password unlike standard extenders, where you must remember to change connections as you move around."
Corey's Experience After Installation
Corey expressed he saw a big improvement in his home network immediately. He experienced zero lagging, faster speeds, and no dropped internet connection.
"My life is better because I don't have to stress about going elsewhere to get good enough service to conduct business," said Brandon. "The Plume HomePass and mesh extenders give me peace of mind when a client or project manager calls. I truly like the way I can manage connected devices wherever I am, and it allows me to navigate from room to room without any action manually needed, " said Brandon.
"Coupled with Broadlinc's fast high-speed internet, it delivers an outstanding wifi experience. I absolutely recommend the Plume device to anyone looking for the absolute best wifi experience in their home or office."
"This device is for everyone. If you're not tech savvy, you will love it. It Is perfect for those who just want something that works," commented TJ Scott.
"There is no rebooting or configuration changes to keep it running. If you want the best wifi experience and remove 90% of issues that most customers have with their internet experience, this service is for you."
Plume HomePass is free with the rental of Broadlinc mesh units. If you are interested in learning more about Plume HomePass and/or mesh extenders, contact us today.

Written By Brittany Bowlin, Director of Marketing
Brittany Bowlin is the Director of Marketing at Broadlinc internet services. Her responsibilities include leading the company's marketing efforts, overseeing and growing the marketing department, consistently identifying revenue opportunities within our established client base and managing consistent growth by securing new accounts, collaborating with the leadership team to uncover insights and strategies to develop and implement marketing and branding strategies for new and existing products, and spearheading the strategic and tactical execution of marketing campaigns, including design of test/control segmentation, implementation of tests, tracking, results reporting, analysis, and recommendations. You can find her on the weekends enjoying the outdoors of Colorado with her fiancé, Logan Derderian.