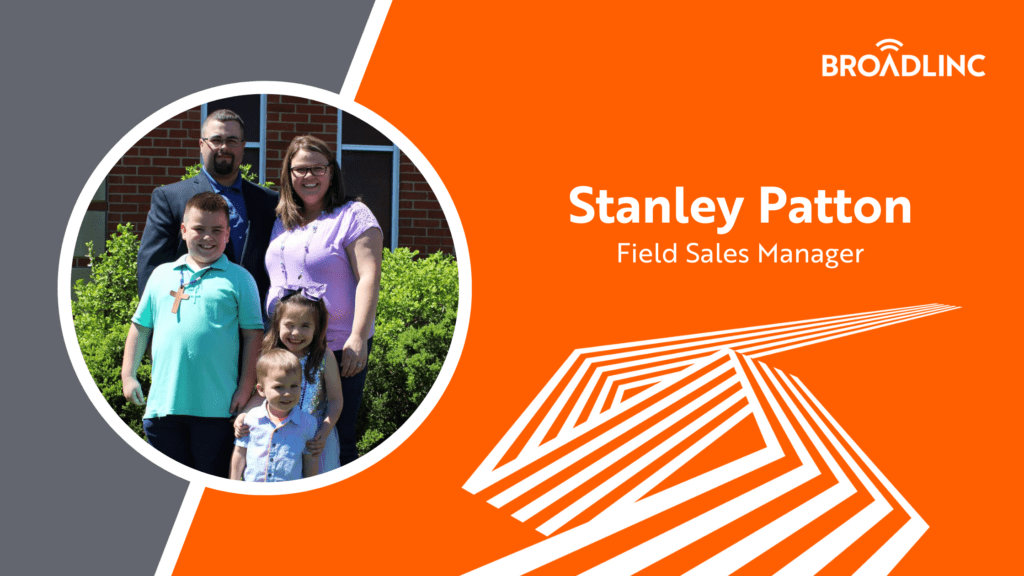 Employee Spotlight: Stanley Patton
Meet our employee spotlight for July, Stanley Patton. He is the Field Sales Manager at Broadlinc working out of the Owenton office. He is responsible for door-to-door sales tracking, supervising and motivating his team, and ensuring customers receive a top-notch experience.
Q & A with Stanley
Tell us a little about yourself.
I'm from Owenton, KY. I've been married to my beautiful wife Sarah for 11 years, and we have three awesome children; Carter (11), Caelyn (8), and Cooper(5). Outside of my job, I coach kids in football, basketball, baseball, softball and tee ball.
How long have you been with Broadlinc?
This month is my one-year anniversary with the company.
What brought you to the company?
I heard about the company through locals and learned it was close to my house. I wanted to work locally, so I applied for the Sales Representative position and was hired instantly. Three months later, I was promoted to Field Sales Manager due to my track record of acquiring 300 customers in less than a year. Overall, working for Broadlinc was the perfect opportunity for me.
What do you like most about being a Field Sales Manager?
I enjoy helping the team reach their potential in the field doing door-to-door sales. My ultimate goal for my team is the help them meet that same 300 customer mark in their first year as well.
How would you describe the culture at Broadlinc?
Broadlinc's culture is very family-oriented and leadership . We have a strong team that works efficiently together, and we all respect one another.
What do you like most about working at Broadlinc?
I really enjoy the camaraderie aspect of my job. I like interacting with both customers and my coworkers.
What do you enjoy doing in your spare time?
I enjoy pool time with my family.
How would your family or friends describe you in three words?
My family and friends would describe me as STAN THE MAN. That's all you need to know.
Tell us something most people would be surprised to learn about you.
Most people don't know that I'm the youngest of eleven kids. We have a big family!
If you can have an unlimited supply of one thing, what would it be and why?
Time because it flies by when you're busy or having fun. Time is a precious thing.
What is the best piece of advice you've ever been given?
"Don't worry about the past, the rear-view mirror is small. That's why we have big windshields to always look forward. The future is bigger and in front of you."

Written By Brittany Bowlin, Director of Marketing